7 amazing loft conversion ideas
If you are planning a loft conversion but are unsure of how you can create a lovely living space, we have chosen our favourite loft conversion ideas to give you some inspiration.
1. Maximise your space
One of the trickiest things about a loft conversion is trying to make the most out of what is often a small space. Ideally, you will add both a bedroom and en-suite, making your loft conversion feel more luxurious whilst also adding value to your home.
We love this loft conversion idea below, with the clever use of the sliding door which separates the en-suite and bedroom without using space for the door to open.
The bed is cleverly placed under the sloping Velux windows and the maximum head height is used for the walk way and the bathroom. There is also clever storage under the slope of the roof maximising every inch.
Simple spot lights and walk in shower add to the design and the light flooring and white walls give a sense of space. The look is light and simple, making this small loft conversion appear much bigger that it is.
Image source Simply Loft
2. Open up the stairs
Often the stairs can feel narrow leading up to the loft conversion, with little natural light making them feel dull and cramped.
You can make this space much brighter by using simple techniques such as painting the walls in a bright white and using spot lights along the stairs. A glass balustrade, like this one below, also gives the illusion of space and lets the light flow through. We also adore this stair runner for a perfect finish!
Image source Turner Pocock
3. Turn the dormer into a feature
Loft conversions can often look fairly unattractive from the outside, so turn yours into a feature. This bungalow below has a large dormer extension which has been cladded in oak to make a stylish addition to the home - it looks really modern with the slate roof and rendered walls.
A finish like this is a straightforward update to the exterior of a loft conversion and adds so much more character to your home. Other ways to make your loft conversion look more attractive is by incorporating a large feature window or a Juliet balcony.
Image source Express Bifolds
4. Make the most of the sloping ceilings
You don't need a huge space to fit a fabulous en-suite into your loft conversion, just keep it simple and try not to squeeze too much in. We love this shower room below and how the slope has been embraced by the shower area.
Think about your loft conversion and what you can fit under the slopes where you don't need the full head height. Some other great loft conversion ideas include placing your bath under the slope or using the wasted space for storage or built in cupboards.
Image source Imperfect Interiors
5. Kids rooms are perfect in the loft

One of the most challenging things about a loft conversion is not having enough head height to make them entirely practical. For a comfortable living space, you need at least 2.2 metres at the highest point, which is normally the centre. So if you are struggling with height then use the loft space as a kids bedroom where this isn't as much of an issue.
This loft conversion below is so bright and makes the most out of a fairly small space, which works perfectly for a baby and toddler.
Read our article on the feasibility of a loft conversion for more practical tips before planning your conversion, including head height requirements to comply with building regulations.
Image source Creative Spaces
6. Add some drama and light
If you can stretch your budget then give your loft conversion the wow factor and add architectural glazing.
We love this loft conversion idea, where the owners can relax in the bath and look out over the London rooftops - it's such a special addition to this home and gives it a luxurious feel. The space has been opened up further by a skylight in the roof which allows even more light to flood in.
Image source Plusrooms
7. Keep it open plan
Probably one of the most beautiful loft conversions that we have come across - this open plan conversion looks like it's been lifted directly from a spa hotel.
The aluminium framed glazing separates the bathroom whilst still giving the illusion of space, and the shower is hidden from view of the bedroom. There's also a fantastic walk in wardrobe hidden to the left of the bed, further adding to the luxury. The details in this loft conversion are just stunning; we adore the tiles in the bathroom, the warm neutral tones and the grey aluminium framed windows.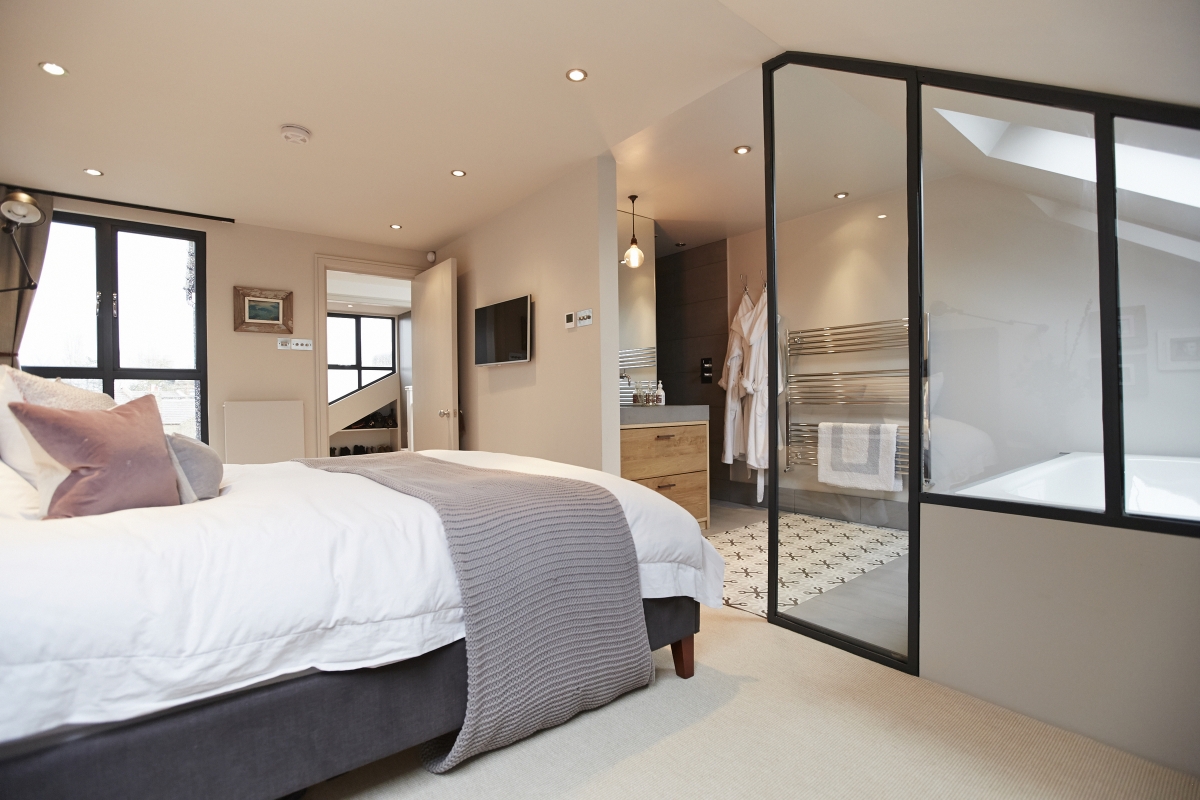 Image source Conley & Co
If you need to find out more about loft conversions, then read our great guide to loft conversions to get you started, or get an estimate for your loft conversion cost using our handy tool.
Published: April 10, 2019