A Rear Extension Creates A Stylish Open Plan Space
Favourite
The kitchen in this beautiful Victorian terraced home was a scroll stopper for us the moment we laid eyes on it. 
The north facing kitchen has the most amazing glazing and is styled to perfection...a contemporary twist on a beautiful mid-century style. We love the dark colours which perfectly compliment the period of the home, and the flow from the front lounge all the way out to the garden.
Extending into the side return and to the rear of a terraced home can completely transform the space and has created such a stylish family home here. We chat to the owners, @hereisonethreefour, who share with us their renovation story, including the challenges and cost escalations during lockdown.
Side return and rear extension which has created a wonderful open plan space
Can you tell us about your home and kitchen extension?
We bought this house about 20 years ago - not too long after getting married - it was a bit of a wreck and in a slightly dodgy area.
It's a Victorian terrace in North West London, which was built around 1880. Nice place but had some of the soul stripped out of it over the years and had numerous budget DIY bodge-jobs done on it.
We decided to do the house up as much as we could afford and if the area didn't pick up, as expected, we'd move on. We even mentioned doing a side-return extension back then but couldn't afford it and really didn't think we'd recoup the money if we did decide to sell up.
But as kids started popping up the area started picking up and the house started filling up.
The beautiful Victorian terrace which has been renovated over the years
After about 5 years we flirted with moving house but really liked the area and realised that for the cost of moving (stamp-duty, solicitors fees etc) we could just make our home bigger by converting the loft. So we did.
The area got better and better and with 2 kids and the various play dates that come with them, our circle of friends got bigger and bigger.
Social life with young kids becomes more home-based and the kitchen, which is always the centre of any gathering of friends, started to feel a little cramped.
As the kids grew older, our home began to feel more and more tired. So, about 2 years ago, we decided that we definitely didn't want to move to another area and decided it was time to give the old place a bit of a polish - along with finally getting rid of that damp dank strip of concrete space that ran outside the kitchen.
The first sledgehammer hit the old Victorian walls a month before the whole country went into lock-down. Great timing.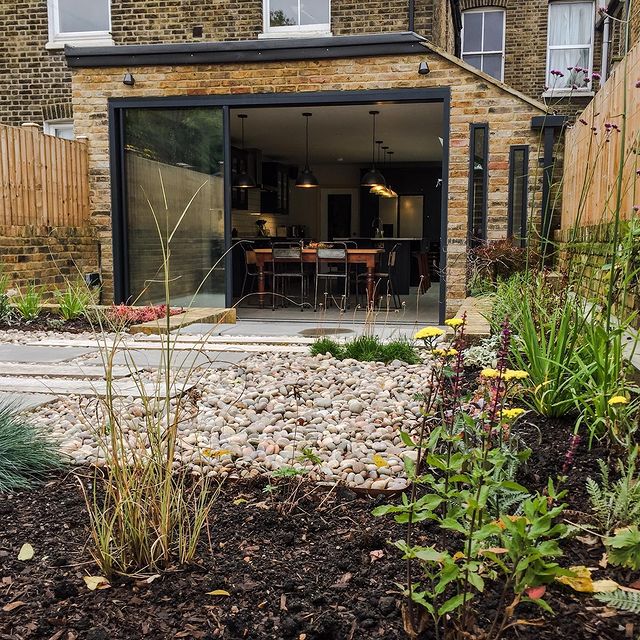 The exterior of the extension with the large sliding doors
We love the style of your extension - did you work with an architect on the design and layout?
Sort of. We worked with a guy that wasn't quite a fully-fledged architect - more of a draughtsman. He gave up what he saw as a very stressful job to indulge himself in the love of his life, motorbikes and to keep his 17 motorbikes on the road he would take the 50 pieces of silver by producing plans that builders could work to and planning departments could understand.
The great thing about using this guy is that he was cheap(er). The not so great thing is we ended up project managing ourselves as he became very much hands-off the moment the work started.
I work in a creative profession, so I had my hand in some of the design - as did my wife - we had a pretty good idea of what we wanted, we really just needed someone who had the expertise to navigate the plans, planning and construction minefield.
The kitchen flows into the garden which is perfect for entertaining
Having lived in your home for many years, what was the most important thing to get out of the extension for you?
The back of our house is north-facing. The kitchen was very dark and gloomy. The back garden, especially in winter, was very damp and miserable.
We don't like a great deal of clutter in the house - we enjoy having space around us - what was important for us in our extension was to have a great kitchen to cook in (that's entirely my role so I got to pick cooker/extractor/fridge/wine fridges - and insisting on the boozy shelf of dreams!) and to have enough room to entertain friends in an informal way (sitting up at the island) or slightly more formal way with a table that very comfortably seats 8.
Summer time we need to be able to spill out into the garden. So that was redesigned as an extension to the kitchen.
The other important factor was the light. We wanted to get rid of the dark kitchen and let in as much light as we could. (Funnily enough our draughtsman/architect strongly advised us NOT to go glass roof all the way down the return/extension. This was one thing he was really adamant about and he was dead right.)
We love the feature drinks shelves in the walkway between the kitchen and the lounge
Were there any challenges throughout the planning and building work?
I mentioned we knocked down the back of the kitchen a month before the big lockdown. That was fun. Although credit to our builders, they carried on!
As schools shut we chose to move out of town - about 120 miles out of town - this was our only real option and did make keeping tabs on building work progression nigh on impossible.
The other big problem was a glazing firm we had appointed, decided not to share with me the mobile numbers of the team working on our project - they were now all working from home. They were also refusing to correspond with our builder who was prepping the area for their glass. I fired them and lost a reasonable deposit but I had no confidence whatsoever in them. 
Another glazing firm (that I found through reaching out to a poster on Instagram) was appointed and were excellent (L2i Ltd).
And then there were the materials that started drying up due to the lockdown - my favourite being that bags of Multi-Finish plaster went from about £7.50 a bag in London to £50.00 a bag. We needed 38 bags.
The beautiful handmade kitchen
Did you have any large areas of spend that were important to you and did you look to save on anything else?
This was our second (third I guess if you count the loft conversion) renovation job on the house. We wanted to right many past wrongs - inadequate boiler and heating, low quality hot water, single-glazed sash windows, a decent garden area, a proper socialising space and kitchen to a decent spec' so we didn't pull too many punches on quality.
We did shop around though, making sure we weren't paying over-the-odds for things. The handmade kitchen was an unbelievably good price. A small private firm that wouldn't normally supply and fit to London but due to the pandemic they were worried that business might dry up was an enormous bonus for us..
The lounge flows from the kitchen with an open feel throughout the house
What would be your advice to anyone about to start something similar?
My advice to anyone embarking on a project like this is, before you speak to anyone - builder, architect, designer, is go online.
Soak up all the fantastic designs that are out there. Instagram is a fantastic place to start. Start pulling together a collection of places and homes you really like the look of. What do you like about them? Is it the glass, is it the tiles - what style do you keep 'liking'? What colours do you keep going back to time and time again. 
Put together a Pinterest scrapbook of everything you like. The great thing about doing it this way is that you can get a real feel of what your place could look like - how those taps will work with that work-surface. Then start doing your own little scribbles - we had reams of kitchen layouts - which included all the things we loved and liked - all the styles and colours that worked for us.
Once you've got an idea of what you like, THEN speak to the design and build company or an architect. It'll save you (and them) so much time. Show them what you like and tell them why you like it. They should then be able to build on what you have started to make it even better.
The beautiful glazing which really brightens up the space
If you are thinking about a renovation project in the near future and need some help finding an architect or architectural designer, we can match you with the most suitable ones for your project.
Published: July 22, 2021