Expert advice - bathroom tiles
Favourite
Choosing bathroom tiles can be one of the biggest and probably hardest decisions you make when refitting a bathroom and one that you really need to get right. We catch up with Mandarin Stone, one of the UK's leading natural stone companies, to get some advice when choosing new bathroom tiles.

Love Renovate: What choice of materials are there for bathroom tiles and what should you consider when choosing between them?
Mandarin Stone: There are predominantly two main choices. Natural stone tiles, this can be marble, slate, limestone, travertine, granite and are available in a wide variety of sizes and finishes. Alternatively non-natural, man-made materials such as porcelain and ceramic. Again many choices, from plain, patterned, textured, matt, gloss etc.
I suppose the overall look you want to achieve will dictate which material you opt for first of all. Cost is another factor - although this varies hugely with both stone & porcelain. Sealing - all natural stone needs sealing initially, porcelain doesn't. Stone can be perhaps more timeless, whilst some porcelain is more trend based.
Love Renovate: Are there any tips you have when tiling a small bathroom?
MS: Don't think you have to go for small tiles, larger tiles can make a small space look surprisingly big! Keep things light and simple, too much fuss or dark/strong colours will be overpowering in a small space.
Love Renovate: Can I use the same tiles on the floor as the wall?
MS: Yes there are many options in both stone & porcelain where exactly the same tile and format of tile can be used on floors and walls.
Love Renovate: What is your most popular colour and material and what are the current trends?
MS: This is difficult as there are many popular choices when it comes to bathroom tiles and just about everything goes, there are no set rules!
There are some key timeless marbles such as Calacatta & Carrara which will stand the test of time and always be a popular choice for bathrooms. Simple 'honed' (smooth, matt) limestones in grey shades are another popular choice. Patterned tiles are extremely popular, perhaps on the floor with plain wall tiles. Combining marble with white subway tiles is a current trend. Porcelain tiles that mimic marble, wood and concrete are also very fashionable. Laying patterns such as herringbone and chevron too.
Overall grey and monochrome are popular colours although we are starting to see some pretty pastel shades as well as richer tones creeping in.
Love Renovate: What is the most hard-wearing tile for a family bathroom?
MS: Probably porcelain, although once sealed natural stone can be virtually as hard-wearing.
Love Renovate: What would be your most luxurious choice for a bathroom?
MS: Marble. Something with beautiful veining which creates the wow-factor but also completely timeless.
Love Renovate: How can I keep my bathroom tiles looking like new?
MS: Regular cleaning with neutral cleaners & not abrasive household detergents.
Love Renovate: What different types of grouting are there and how do I go about choosing the right one for my bathroom?
MS: There are mould resistant grouts available so definitely opt for these in a bathroom situation. Various colours of grout are available so best to choose one that's as close to and compliments your tile choice.
Love Renovate: What should I consider when fitting tiles?
MS: Use an experienced tile fitter. Order enough tiles for the whole job, if you don't have enough you may find extra tiles may be from a different batch so might be slightly different. Plan thoroughly the tile layout so you avoid unnecessary cuts and wastage.
Love Renovate: Do you have any key tips?
MS: If you have any particularly wet areas such as behind the shower, or perhaps a whole wet room remember to always 'tank' or waterproof the walls prior to tiling.
Published: August 23, 2018
Search for local businesses
Related articles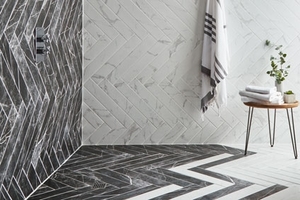 5 of the best marble effect bathroom tiles
Inspiring walk in shower ideas
Small bathroom design ideas