Expert Advice - Bungalow Renovations
Favourite
Bungalows are often overlooked for a renovation project, but we absolutely love them! Not only can they be bought at a reasonable price, they are often on generous plots which offer so much potential to extend and create a wonderful home. 
So whether you have bought a bungalow and want to keep it as a single storey, or are considering turning it into a double storey home, Alex, Director and Chartered Architectural Technologist of Alexander James Associates, shares with us his expert advice on renovating a bungalow. Alex also shares some photos from an amazing bungalow renovation (Little Birches) that he worked on in Staffordshire - such a beautiful project inside and out.
If you are thinking about a bungalow renovation in the near future and need some help with where to start with your project, try our renovation advice session.
What are the design options to maximise a bungalow on a limited budget?
As with all projects there are so many variables which need to be balanced when it comes to a renovation project. Our approach is to constantly evaluate designs and proposals as they progress, rather than waiting until you have a fully finalised and detailed scheme to get a feel for build costs. 
When we start working with our clients on a new project, we usually produce a number of simple sketch plan layouts for us to sit down and discuss over a coffee. Together, we scribble on the plans to develop a layout which ticks the boxes of what they want to achieve from the project. We then develop these sketches to produce some initial sketch elevations. It's at this early stage in the design development that we would recommend involving a friendly builder to look through the early designs and provide a rough estimate of build cost. 
Involving the builder at such an early stage gives you a feel for the estimated build cost before you have invested too much time and money developing designs, carrying out surveys, obtaining planning approval etc. If the initial build cost figure comes in higher or lower than expected it's then easier for us to review the scope of works and specification at this stage and make changes to get the most out of your project while keeping a keen eye on budget.
The front of the Little Birches project before the renovation
What are the other options in terms of bungalow conversions and extensions?
Bungalows are great properties to work on, but they can be tricky to get right. One of the main reasons for this is due to the proportions a bungalow presents. Compared to a traditional two-storey house, a bungalow will visually have a far higher proportion of roof structure to elevation wall. This can have the effect of making the building look 'top heavy'. Bungalows generally tend to have a very horizontal look in their appearance due to their form. Generally, we find it best not to fight this and we look to use this horizontal emphasis to our advantage. For example, the use of cladding materials in a horizontal pattern will have the subtle effect of leading your eye in the direction of the cladding, this can work really well in say an entrance hall, where arriving at the property, you want to draw your eye through the building to the rear of the property and perhaps the garden area beyond, creating a feeling of space and connection to the outside. We used this idea of horizontal emphasis to great effect on our Little Birches renovation.
You might also think that bungalows are always single storey, but they really don't have to be. You can create some fantastic multi-level spaces within a bungalow. This can be achieved by looking at using the roof void to create a new floor for example. You might also find that the site around your bungalow has a natural fall to it, if so, why not use this and create a split level within the ground floor layout to add an interesting break point which leads seamlessly onto the dropped level of your rear garden? For our Little Birches project, we introduced a split level within the open kitchen / living / dining space which our clients really liked. The generous steps also serve as an informal seating space for entertaining or evening drinks.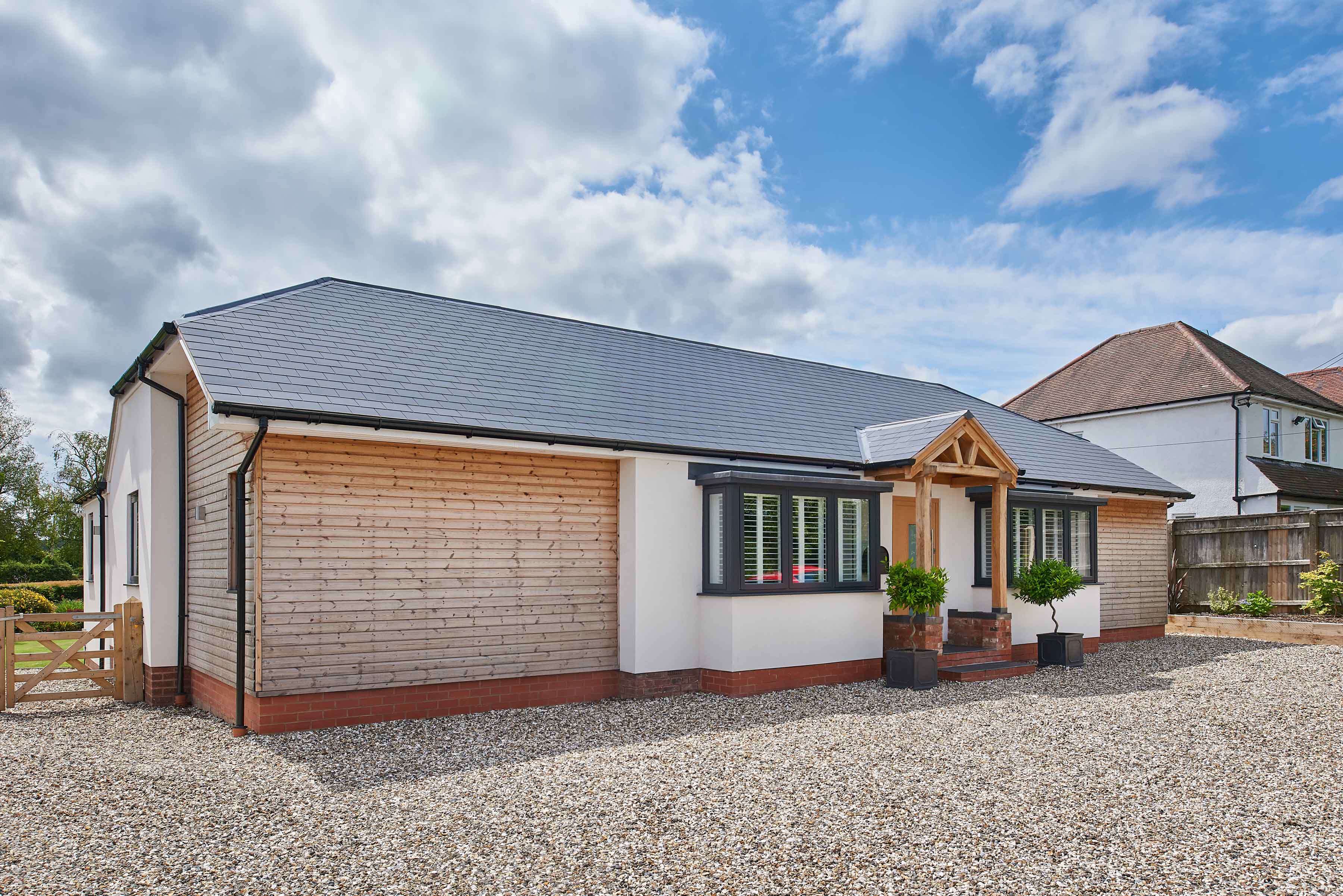 The amazing front of the Little Birches project after the renovation
What should I consider with regards to planning permission when carrying out a single storey extension on a bungalow?
The planning process can be a daunting prospect for clients, but it doesn't have to be. As part of our very first discussions, we advise our clients on the best route to take to give us the best chance of success of securing planning approval. That isn't to say that it is always easy, far from it, but we work closely with our clients every step of the way to guide them through the process.
Every site and project is unique, and raises its own challenges which need to be carefully considered. Factors such as whether or not the building is located within a conservation area will influence design, materials and architectural character. Other factors that may need to be considered could include whether or not the existing building is listed and therefore requires listed building consent. Perhaps your property is in a rural area, if so, then could the proposals have any impact on local ecology and habitat? 
The key to successfully navigating through the planning process is not to look at these factors as issues, but rather use them to influence your design to create a project which sits sympathetically and blends well within its natural and built environment. In certain circumstances, it may even be possible for you to carry out the works without the need of formal planning permission under permitted development, in this situation we'd recommend that discussions are held with the local planning authority to ensure that they agree to the permitted development. 
The wonderful open plan area with the raised dining area, which creates a wonderful zone
If I would like to create a double storey extension to a bungalow, what are the considerations for planning permission and are there any structural limitations?
Double storey extensions to bungalows can be achieved but not on all properties. It all really depends on how your existing roof structure works and the existing roof heights your property has. We find that the way to approach a two-storey extension is by looking at two separate key factors. 
The first is from an external elevation point of view. Does the size and height of your new extension connect well with the existing property? For example, is your extension eaves and ridge height either the same or lower than that of the existing property and does the new roof connect well into the existing? If the answer to these questions is yes, then you are half-way there. 
The second thing to think about then is how is the extension internal space going to be carved up, especially in terms of height and how does this connect into the existing property. For example, your existing roof structure may have a generous height and roof pitch which could be easily converted into liveable space for bedrooms. If that's the case, a two-storey extension could connect well into the existing building, especially with the use of dormer windows or rooflights. However, your existing bungalow may only have an overall internal height of say 3m, in which case you aren't realistically going to be able to create a two-storey internal layout. However, you could create a split level or you may want the extension to be single level but have a vaulted ceiling, creating a dramatic double height space.
When thinking about any works to convert or extend existing roofs, it is important to get a good understanding of how the existing structure works. You may have timber roof trusses which can be adapted but could be costly with the introduction of additional steelwork in order to open up the roof void. Alternatively, you may have a traditional cut timber roof which already creates an open roof void. This is much easier to adapt, however a new floor structure may need to be installed. During an initial inspection of the property, we can advise on the most cost-effective way of converting your roof space.
The rear of the Little Birches project before the renovation
Are there any considerations for the internal layout?
It's important to understand what the main driving points and goals are for your project, from there you can then think about a layout which achieves these main goals. We generally start by chatting with our clients to develop a simple shopping list of spaces that need to be incorporated within the layout. Once we have this it's then just as important to get an understanding of what doesn't work within the existing property, this could be anything from lack of storage, not enough natural light, poor flow etc. Finally, once the sensible items have been covered, we like to encourage our clients to think a little more outside the box. If you're going to go through the cost and inconvenience of carrying out major renovation works to your home, why not add try and add in those 'icing on the cake' items to make it all worthwhile. It could be anything from a wine cellar, a games room or even a secret bookcase door leading from your master bedroom to a balcony where you can have your morning coffee. Something that makes your home special and unique to you. 
The rear of Little Birches after the renovation
How do I bring as much natural light in as possible?
There are several different ways of introducing more natural light into your home. There are bold, direct ways of doing this such as introducing floor to ceiling glazing, large open bi-fold or sliding doors and rooflights. All of these methods will flood your interiors with lots of natural daylight, but there are also other more subtle ways of creating light and airy spaces. Think about colour, tone and surface finishes within your interiors as these will have a huge effect on how light will bounce around the space. Think about finishes of items such as kitchen units, worktops, tiled splashbacks, floor tiles, placement of internal features such as mirrors, as the finishes of all of these items along with how light reflects off them can vary greatly. Another subtle way of increasing the feeling of natural light is to remove shadow lines wherever possible. For example if you are opening up an existing structural wall and need a steel to support this new opening, try to lose the steelwork within the ceiling structure, this will avoid having a down stand and remove shadows being cast across the ceiling.
The view from the kitchen to the lounge area
What ideas are there for the exterior to really bring it up to date?
There are lots of fantastic materials and cladding options out there to choose from that can totally transform the appearance of a property. We generally tend to stick to an absolute maximum of three different main materials when it comes to upgrading the external appearance of a building, any more than three and the style and visual affect can start to become diluted and disjointed. 
The surrounding environment can play a huge part in the selection of external materials. For example, in a more rural setting you may choose a softer and more natural selection of materials such as timber and stone. We used timber cladding, solid oak and slate to soften the areas of brick and render used on the exteriors for our Little Birches project. An extended timber clad canopy on the rear elevation gave the design a subtle contemporary twist too. The selection and use of these materials gave the property a new lease of life while sitting sympathetically within its rural surrounding. You can take this idea further and blend the building into the natural landscape with the use of green roofs and living green walls. Generally, when it comes to materials, less is usually more, it's all about the finer detail of how these materials work together and are the quality of the finish.
View onto the garden from the raised level dining area
Is there anything else I should consider when I'm planning a bungalow renovation or extension?
In any project whether it be a bungalow renovation, an extension or the construction of a new home, there will be challenges and bumps in the road. It is therefore absolutely crucial that you have the right team around you to guide you through the obstacles and to help you deliver your project. Don't forget that you as the client have to be comfortable with everyone you bring on board to deliver your project, from the architectural designer who can realise your vision and convert this into drawings and designs, to the builder who will practicably be living you for the next few months to bring those visions into a reality. The most important thing though, is to enjoy every second of it.
If you are thinking about a bungalow renovation in the near future and need some help with where to start with your project, try our renovation advice session.
Published: November 8, 2021