Expert advice - clutter-free bathrooms
Keeping your bathroom clutter-free is essential to create a relaxing and calm environment. If you are planning a new bathroom, it's the perfect time to incorporate features that ensure that there is a place for all of your essentials and decide what you really need to have in the bathroom. We catch up with bathroom designers Bathroom Eleven to get some ideas.
Can you store it elsewhere?
There are many items in a bathroom that could easily be given another home to create more space. Keep an eye out for anything in your bathroom that could potentially live elsewhere. "Laundry baskets are usually a big item that a lot of people keep in their bedrooms instead." says Johanna Flores, designer at Bathroom Eleven.
Items like scales, spare toiletries or even cleaning products can be allocated to practical but beautiful looking storage in your dream bathroom though. Often luxury items such as soaps and scents are attractive enough to be placed on show.
Combining beautiful storage with practicality
There are lots of solutions to creating storage in a dream bathroom. Think about how much space you need to allocate to storage before you choose your bathroom.
Recesses are a great design tool to create a simple yet attractive storage solution which don't take away from the space of the bathroom. Creating recesses in your shower cubicle for toiletries or perhaps above a bath for candles and bath salts. This helps keep products off ledges and surfaces, helping the bathroom look less cluttered.
"I particularly recommend recessed mirror cabinets, storage below the basin, and little to no worktop space around the basin to avoid covering them with products that should go back into storage." says Johanna.
Mirrors are a great asset to your bathroom; not just for morning rituals, but for spreading light around the room. Adding them to a recessed cabinet is a great way of smoothing the wall space, which is just as important as the floor or any other surfaces in the bathroom.
Drawers are also vital for keeping the bathroom clutter free. "You can decide if you need a deep drawer for bigger items or 2 to 3 drawers for smaller items." says Johanna. Having the flexibility of drawers of different depths allows you to modify your bathroom to accommodate the things you need in it at the time.
Know your habits
Think about your daily routine – when and how you like to use the bathroom, who will be using it, at what time of day. If you have a family it is likely that you will need more storage space so make sure you incorporate plenty.
"Often when a client is imagining their dream bathroom and especially after seeing the beautiful images you show them for the design proposal, people forget about the current clutter that they have in their bathrooms. So it's important for us as designers to figure out our client's needs and habits in regards to clutter in order to design the best solutions for them and the space." explains Johanna.
A final word...
When you are renovating your bathroom, it's a great time to go through your current bathroom and throw out any items that you never use. Old lotions or out of date medicine products should be thrown away to avoid unnecessary clutter in the space!
Published: July 5, 2018
Search for local businesses
Related articles
Find a bathroom showroom near me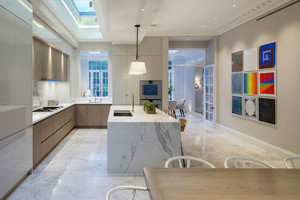 Expert advice - planning a lighting scheme
Inspiring walk in shower ideas