Expert advice - en-suites
Favourite
A well designed en-suite can be your sanctuary in your home, a place to relax and unwind no matter how big or small the room is. Creating an en-suite is not only a practical addition to your home but could also add value.
We catch up with Joel, Designer at Ripples Bathrooms, who fills us in on everything you need to know when planning your new en-suite.
Love Renovate: How much space do I need as a minimum to create an en-suite?
Joel: I am a designer at the Ripples showroom in London. It means that often space is tight in the London homes we work in, so we have to be as design savvy as possible with the spaces we are given. Recently the smallest en-suite I have redesigned was 750mm x 2500mm, I would suggest that if you are looking for an en-suite bathroom, then this would probably be as small as you should look to go.
Love Renovate: Are there any trends for en-suite showers?
Joel: Reflective surfaces such as glossy wall tiles and chrome finishes are all big news when it comes to en-suites.
Colour matching the shower tray to your tiles is highly desirable for customers if they are not opting for a wet-floor tray, creating a seamless look.
The "rustic farmhouse" look, as we like to call it at Ripples, is set to be one of the biggest trends. Think a beautiful boutique hotel bathroom with decorative tiles, that would be perfectly placed in your en-suite.
Love Renovate: Do you have any great ideas for the sink area that would make the en-suite appear spacious?
Joel: Make the most of the space you have available and think practically about exactly how you want the en-suite to look and feel. A wall-hung basin will maximise space and make a bathroom feel more spacious.
Love Renovate: What is the most effective layout for an en-suite?
Joel: When it comes to your bathroom, the positioning of the room is largely dictated by the soil pipe however I would consider thinking about the following things…
Walk-in showers with minimally framed glass will help to keep the room open as you see directly through the glass, if space allows. It also gives you a little more scope with options for different layouts compared to a full shower enclosure.
Ensure you have enough space for spray and water travel when you design your bathroom as nobody wants to wade through a pool of water to brush their teeth or pop to the loo if somebody else has just had a shower. Choose a good quality non-slip tile for a wet floor and it's well worth considering under-floor heating to dry your tiles out too.
If space is very tight, sometimes less is more and a smaller basin or bath might actually give you a bigger feeling in the room. Ultimately think about how you will use the room, this will help to tailor the products that are right for you and accessorise accordingly.
Love Renovate: What's the best option for storage?
Joel: Personalisation is a huge factor when it comes to the en-suite, generally customers take a little more time factoring in the practical uses of this bathroom, be clever with the storage and truly factor in your use and lifestyle. Mirrored cabinets will allow for you to store products, as well as charge toothbrushes and electric razors. Niche storage in the walls will also ensure that you can store bottles discreetly when in the shower.
Love Renovate: Any colour trends?
Joel: White marbles are what all of our customers are requesting at the moment and greys continue to be popular in the world of bathrooms too. Decorative tiles have been selling really well for us this year, particularly with customers trying to create boutique hotel inspired bathrooms.
Our suppliers tell us that fresh blues are going to be making a comeback too!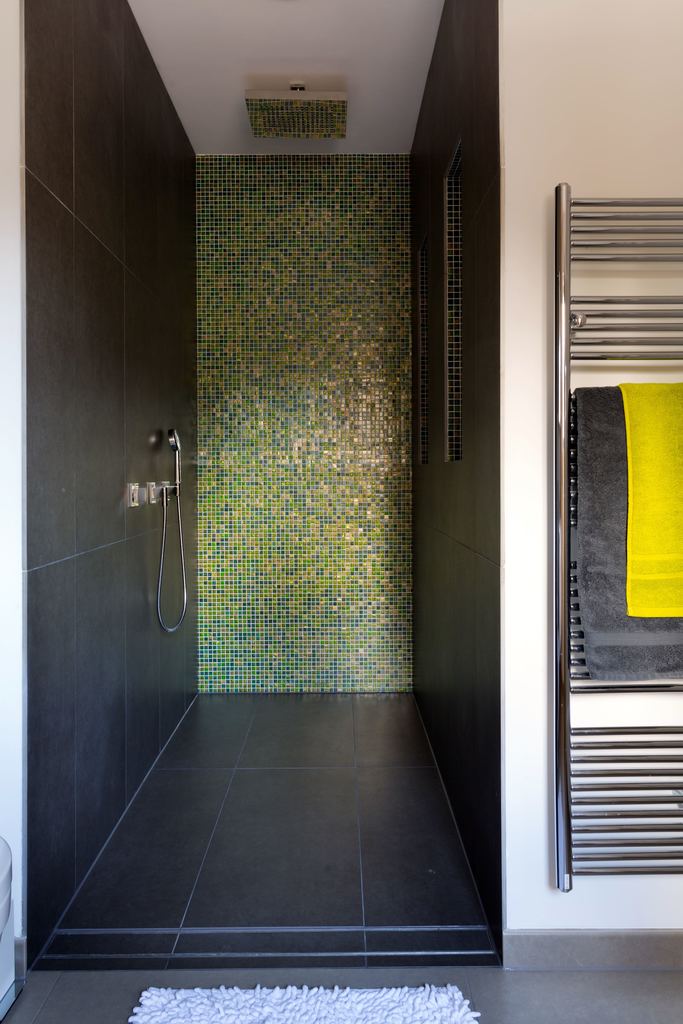 Love Renovate: If there is no option for a window, what is the best way to incorporate ventilation?
Joel: You certainly don't want the bathroom to become damp, especially as it's placed so close to the bedroom, which is why extraction should be considered fully. Make the room well ventilated, you certainly don't want steam flowing in to the bedroom, nor do you want your extraction to be too loud.
If steam is an issue then a heated mirror should definitely be incorporated in to the design, under-floor heating will also help to dry out the room.
Love Renovate: If space isn't an issue, what would be in your dream en-suite?
Joel: The Basin and WC should be wall hung, this doesn't necessarily create more space but it certainly gives the feeling of a larger more spacious environment. I'd then be looking at custom furniture, made to measure to ensure that every single need that I have is covered in my bathroom.
I would be introducing floor to ceiling bathroom storage, walk-in wardrobes and feature areas. They can be finished in beautiful veneered and matt lacquer finishes which look sophisticated and sleek. This design is the ultimate in luxury. The ability as a designer to create a completely unique set-up with this concept appeals to my creative side but is also practical and luxurious.
Carefully selecting beautiful brassware can instantly lift a space and create a luxurious feel. Crisp and stylish brassware would feature in my bathroom to ensure a contemporary look and feel. Many of our suppliers are recognising that customers want to create personal spaces with the help of special finishing touches and as such, we now have the ability to specify brassware in gold, red-gold and beautiful sophisticated blacks (plus a whole host more).
While I'm not a bath person, I'd ensure that I pick a beautiful freestanding bath in a bespoke colour and create a real impact by placing it in an area of the bathroom that draws the most attention. I'd also look to create zones within my bathroom, so that the toilet can be hidden neatly away and out of view.
Love Renovate: Any other tips before I plan my new en-suite?
Joel: Consider these three things…
Lighting - as the en-suite is a room that's placed next to the bedroom, then lighting should be considered carefully, you don't want bright lights flashing on in the middle of the night, it's not comfortable for the person taking a trip to the bathroom, or especially for the person asleep in the attached bedroom. I would suggest that you consider having different levels of lighting, so that when someone is taking a late night trip to the bathroom, you can turn on the low level lighting, it makes for a more comfortable level of lighting. Some of the lighting could be operated by a movement sensor or PIR, meaning there is no fumbling around for a light switch.
Noise - when it comes to the en-suite, noise is a major element to consider before planning your bathroom. Talk to a Designer who will suggest which products will work best, I'd look at putting an aerated shower head in to a bathroom, so that rainfall is softer and noise lessened. Various products will have sound insulation systems built in.
Fun - this is your space and it's your chance to really have fun with it, push the boundaries and make a real impact.
Published: October 4, 2018
Search for local businesses
Related articles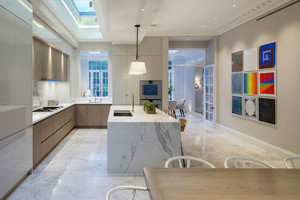 Expert advice - planning a lighting scheme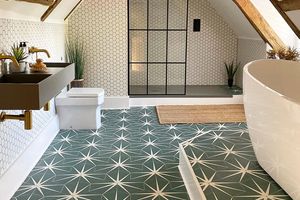 Tile trends in 2020
Find a bathroom showroom near me