How to design your bathroom like a pro
Renovating your bathroom doesn't need to be a big investment and with some clever planning, you can have a designer looking bathroom without the price tag!
1. Plan the lighting carefully
Lighting can make such a difference to your bathroom, making it appear like a designer bathroom without having to spend a fortune. As a minimum, consider lighting around the mirror which can be illuminated separately to the overhead lighting.
Another great feature is floor level lighting that comes on as you enter the room - perfect for during the night when you don't want to be dazzled by a bright light. Dimmer switches are also a good option so that you have the option of low level lighting when you are relaxing in the bath.
2. Make the most out of your space
Avoid trying to cram too much in and maximise your floor space! If you have a small bathroom, consider wall hung toilets and sinks to give the illusion of more space.
If you don't have enough room for a large bath then go for a shower bath or a corner bath (or even no bath at all!). You can also get some really beautiful deep slipper baths that are shorter length but still feel and look luxurious.
Quadrant shower trays are ideal as they take up less floor space without making the shower area feel cramped.
3. Keep the toilet out of view
Ideally you don't want to open the door and be faced with the toilet - so make sure this isn't the first thing that you see and tuck it either behind the door or in the corner if possible!
4. Choose your look
Go for a look that is versatile and can be updated with colour and accessories. Consider how the bathroom fits in with the rest of your home - we love the vintage bathroom look right now which is perfect in a traditional home, or go for porcelain marble effect tiles for a low maintenance yet designer look!
5. Consider who is using the bathroom
If the bathroom is going to be a busy family bathroom make sure you choose fixtures and fittings that will be hardworking for you - acrylic bathtubs are a great option as they are cheaper and hardwearing. Non-slip tiles or vinyl tiles are also good options if you have small children running around.
6. Make sure you have enough storage
Storage is so important - particularly if you have a busy family bathroom. Plan where you will store the towels, toilet roll and your various toiletries.
Take the time to throw out any old bathroom towels and items that you rarely use - only keep the items that you use and need otherwise you will end up incorporating too much storage for "stuff".
7. Invest in a couple of quality pieces
The key to making your bathroom really stand out is by investing in a couple of quality fittings. Spending a bit more on your taps or shower head will make a difference and the overall look will appear high end. These fixtures will be used throughout the day so investing in these will mean they stand the test of time!
Published: September 28, 2018
Search for local businesses
Related articles
9 small bathroom ideas
Expert advice - wet rooms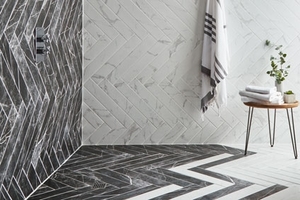 5 of the best marble effect bathroom tiles