Kitchen trends 2019
We are so lucky to see the most beautiful kitchens on a daily basis, either on social media or from our suppliers on Love Renovate. Never has there been such a broad range of styles of kitchen and everything goes - there are no rules.
So from the Scandi plywood to waterfall island units, we have chosen our very favourite kitchen trends to inspire your new kitchen renovation. We hope you love them as much as we do!

Plywood kitchens
One of the latest kitchen trends that we are seeing emerging is Plywood cabinets. Whether it's mixed with white units for a minimalist Scandi look, or going all out for a natural look. We think it looks so bright and inviting and for us, it's the perfect choice for a relaxed family home.
Kitchen by Sustainable Kitchens
Warmer marble shades
We have swooned over Carrara marble over the past decade and think it's the most beautiful worktop. We are now seeing warmer shades of marble worktops emerging as one of the latest kitchen trends - think gold or brown tones rather than greys, like this beautiful marble worktop that has a lovely bronze hue running through it. The colour looks perfect with the brass taps, stone coloured tiles and dark grey window.
Kitchen by The Wood Works
Mix some matt black into your kitchen
Matt black units are becoming such a popular choice and can be introduced in so many ways. Either full on black units with dark tiles to create a sophisticated contemporary kitchen, or mixed with wood to give your kitchen a modern industrial look.
We have chosen two very different matt black units to give you some inspiration. The first is a beautiful matt black cabinet mixed with oak units, open shelving and concrete effect flooring from @ourcotswoldsconversion on Instagram. This kitchen is just a bit different to anything we have seen and works well with the different materials and finishes.
Many thanks to @ourcotswoldsconversion for the image
This next black kitchen has a very contemporary look - the floor to ceiling units combined with the gloss white island and the granite table gives such a striking finish. The room is so light and bright even though the cabinets are dark.
Kitchen by Design A Space
Waterfall worktops steal the show
Island units will always be one of the must have features in any kitchen. To make your island unit a feature, go for a waterfall island unit - this works so well in any finish...concrete, marble, modern engineered stone or wood.
We have chosen two different waterfall island units to give you some inspiration. We love the first from @Renovating No. 24 on Instagram, with the marble splashback, black and white units and black taps. It has such a contemporary feel yet the marble still gives it a classic finish - so stunning.
With thanks to Renovating No. 24 for the image
The kitchen below by The Kitchen Partners is a partial waterfall made from a modern engineered stone. It's such a fun kitchen with the bold colours and, although the room isn't huge, the island works so well.
Kitchen by The Kitchen Partners
Statement tiles
Patterned tiles are everywhere and people are getting braver in the kitchen, not just the bathroom. Our particular favourites are penny round tiles, which are so fabulous, and the stunning Lily Pad tile.
How much do you love these pink tiles in the holiday home of interior designer @laurabutlermadden?! They are bold in design but the pale pink gives them an understated look in this stunning white and gold kitchen.
Many thanks to @laurabutlermadden for the image
If you love penny tiles as much as we do, do check out the home of Chelsea from @thehousethatblackbuilt over on Instagram. She uses them beautifully on her kitchen floor. These are so much fun and work so well in this classic kitchen...another fabulous black kitchen too!
Many thanks to @thehousethatblackbuilt
Green is the new blue
Blue will forever be a stunning choice in both classic and modern kitchens alike and we will never get bored of seeing it.
However, green is emerging as a beautiful kitchen trend in 2019 and an alternative to the blue kitchen, and there are so many beautiful shades and looks to go for. Be it the sophisticated pale apple, bright mint green, bold teal or moody bottle green, really the choice is yours!
With the colour reflecting nature, it is the most beautiful colour to paint your kitchen as it compliments every season.
We have chosen two of our favourites here to show you how green can be used in such a different way. The first kitchen below is from the home of @highfidelityhome, where the dark green is such a class act in this galley kitchen. Combined with the crittall doors, brass handles, open shelving and the most amazing flooring - this is simply perfection.
Many thanks to @highfideltyhome for this picture
We also love this contemporary shaker kitchen by Brayer Design - finished in such a soft green and combined with the large modern handles, this shaker kitchen has a modern twist.
Beautiful pale green units by Brayer Design
Go all out
Over the past few years, we have seen people become bolder and braver with their choice in kitchen and style. So we love when we see kitchens that are completely out there but work so well. Mixing loads of different textures, colours and prints gives a kitchen that oozes personality and charm.
We were blown away by this kitchen - the understated marble is the perfect contrast to the bold wallpaper and the pink units. So many different colours and textures going on and it works amazingly!
Kitchen by Perfect Fit Kitchens
Concrete worktops for the ultimate industrial look
Concrete has been making its way into the kitchen and it's perfect for the full on industrial look. Renovators are getting more confident with concrete as a worktop and, if you care for it properly, it's an amazing choice. Or you can embrace any marks and go for a distressed look!
We adore the concrete kitchen worktop in the home of @projectwaltonroad. Head over to her Instagram feed to get even more industrial inspiration!
If you want to find out more about concrete worktops then check out our expert advice article.
Many thanks to @projectwaltonroad for the image
Published: September 26, 2019
Search for local businesses
Related articles
Inspiring kitchens with islands
Expert advice - choosing your kitchen worktop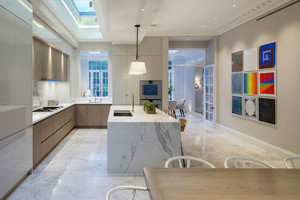 Expert advice - planning a lighting scheme