Renovation tour - an Edwardian transformation
Favourite
This weeks renovation tour is of the_elms_project1906, a charming Edwardian home which has been fully renovated, breathing life back into the property. The decor and finishes throughout the home reflect the period of the property, giving it a graceful finish. If you love period properties with pops of strong colours and textures then this one's for you!
We love the advice from Amy, who recommends taking time and reflecting on the renovation, rather than rushing it all at once. Thanks to Amy for her advice and photos!
Can you tell us about your home and renovation project?
We moved into our home in Middlesbrough just over a year ago – it's an Edwardian house built in 1906 with bags of character, and we were smitten with it straightaway. 
We love the history of it. It was built by Sir Arthur Dorman of Dorman Long Steel – an important figure in our industrial town – so we're really passionate about making subtle nods to industry in our home. 
When we moved in, we soon realised there was more work to do than we first anticipated. We have worked our way around much of our home to make it feel like ours, updating décor, replacing windows, plastering - but there will always be plenty to do!
A beautiful corner in the snug
What was the most challenging part of the renovation?
The most challenging part has probably been the budget – and having to do things we didn't think we would need to yet. 
Although the original windows have such charm, it didn't take us long to realise we couldn't cope with the cold in winter and many of the frames were becoming rotten. Although the house isn't in a conservation area, we felt really strongly that any replacement windows should look identical to any we removed. We opted for timber frame sliding sash windows from a local company and we couldn't be more pleased with them. They look very sympathetic and they make a big difference to the temperature – but the cost isn't for the faint hearted!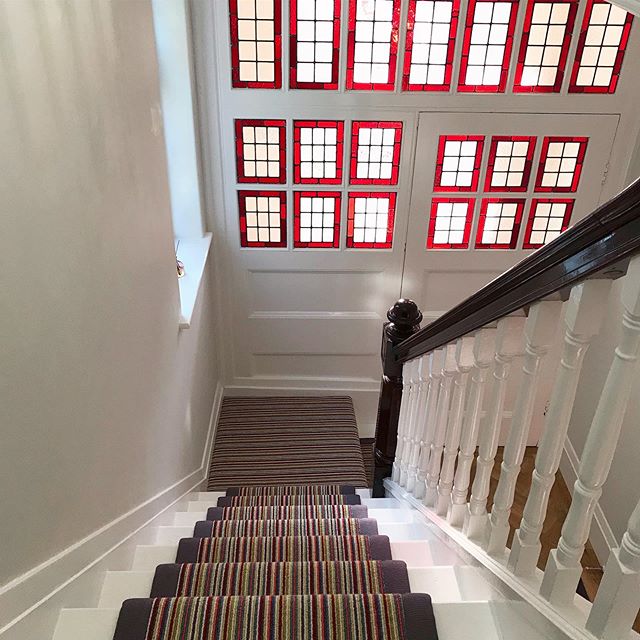 We adore the original stained glass door
Did you have a budget and can you tell us how your stuck to it (or not!)?
I suppose our budget is ongoing as we do everything bit by bit. When there is something we want or need to do, we work hard to save up for it. I think the key thing is prioritising, so if it means making do with a slightly shabby carpet because we need something else, then that's what we do.
The lounge with the original fireplace
Where is your favourite place in your home now?
The snug and the kitchen. We love the big, bright, social spaces in the kitchen, but it's also lovely to sit in our cosy snug and hide away – all my life I wanted bookshelves in my living room! We also put a lot of work into this room and spent a good six months getting it how we want it, so it's nice to sit back and enjoy it.
Classic shaker kitchen looks perfect with sash windows and high ceiling
What is your biggest piece of advice for somebody about to start a renovation project?
Don't try to do everything all at once. I think sometimes you can get swept away and feel as though you need to make an immediate impact on everything, but you don't. Spend time to reflect and really think about what you want. And don't feel guilty for taking your foot off the gas sometimes – you need to have a life too.
Open plan kitchen diner
What do friends and family say about your home?
Our friends and family are lovely and have been so supportive. They've always been there to lend a hand or just have a cuppa when needed! Everyone comments on the original features and the slightly quirky nature of our home. We get lots of compliments on our bold walls and fireplaces.  
Published: November 28, 2019