Small galley kitchen ideas
The best thing about a galley kitchen is that everything is in one straight line, which makes it a very practical and functional space for food prep and cooking. If you have a galley kitchen and have no opportunity to change the size, here are our small galley kitchen ideas to help transform it into a stunning and practical kitchen!
Have plenty of open shelving
To avoid the kitchen from feeling even narrower, keep wall cupboards to a minimum if you can. Open shelving will expand the space and make the room feel wider and with shelves being such a huge kitchen trend at the moment, your kitchen will look stylish too. You can store plates, mugs and crockery on your shelves for a casual artisan look and it's also easy to spot where everything is!
We love this classic shaker kitchen from Plain English and the simple chunky shelf is practical yet gives the feeling of more space around the sink area - you could have a second shelf here to create more storage space without imposing on the room. The balcony doors and the roof lantern add plenty of natural light too.
Plan the layout of the appliances carefully
The most frustrating thing about a small galley kitchen is that it's often difficult for two people to stand back to back without bashing into each other. So make sure you spread out your appliances either on the same side of the galley kitchen or in the standard kitchen triangle. Think as practically as possible so that you can be standing side next to each other at the sink, hob or dishwasher and not in each others way!
This narrow kitchen area has the sink and hob side by side - perfect for food prep and cooking. The clever seating area at the end also makes this narrow kitchen sociable and relaxing.
Opt for minimalist cabinets and worktops
Handleless cabinets are more streamlined and give the feeling of space in a galley kitchen. It's also worth considering a reflective splashback such as mirror or stainless steel to bounce the light around and make the narrow galley kitchen feel wider still. Plain and light worktops will also give the illusion of space as they brighten up the galley kitchen.
This small galley kitchen by John Lewis of Hungerford is perfect with the handleless smooth units in white. Plenty of light also makes this space feel larger than it is. We also love how the sink runs seamlessly from the worktops, again giving the illusion of more space.
Choose a light colour scheme
Light cabinets and surfaces will make the room feel wider whilst dark colours can make the kitchen feel busy and closed in. If you do want to add some colour in, do this by a feature wall or by introducing colour in the cabinets. But if you do want to use a bold colour, make sure you balance it off with plenty of white!
We adore this kitchen from @moochstyle on Instagram. The scheme is neutral with pops of grey and lots of greenery to keep it interesting!
Plan the lighting carefully
Clever lighting will make a huge difference and will make your galley kitchen feel wider than it is. Consider "layering" the lighting by adding plenty of spotlights, lighting under cabinets or pendants.
Try not to block any of the windows with cabinets as you want to allow as much natural light to flood in.
We adore this urban galley kitchen by deVOL. The clever lighting divides the space into separate zones and minimal wall units makes the narrow galley kitchen feel wider than it is. The light colour of the walls and surfaces also add to the feeling of space with the stool at the end perfect for sitting and having a natter whilst cooking.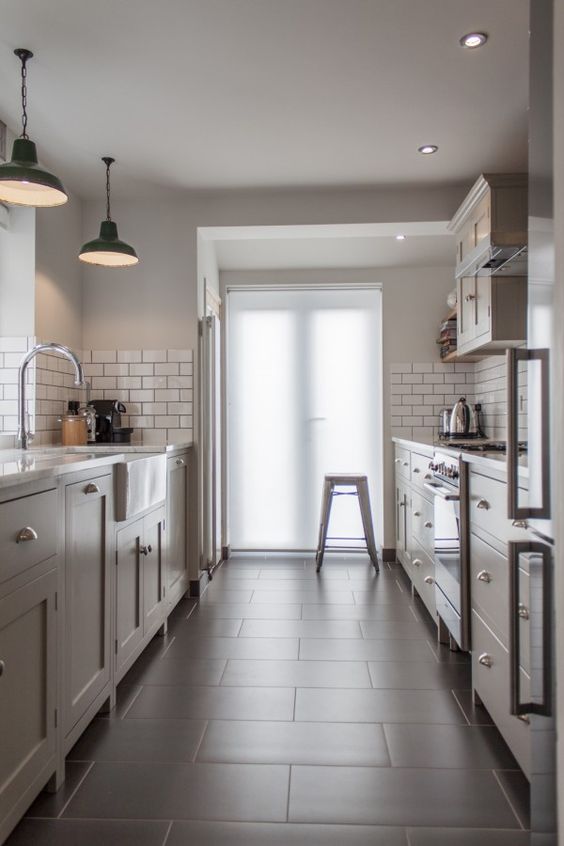 Keep it free of clutter
You need to ditch any pantry items, pots or crockery that your rarely use, only keeping what is essential. Not only will this give you more space in your narrow galley kitchen but it will also make your life simpler and less cluttered! Keep out condiments next to your oven that you use regularly such as oils or seasoning which will make your kitchen far more practical.
This galley kitchen by Bromilow Architects is perfect in every way. The tall cupboards to the right hand side keep all of the clutter stored out of the way, with the area around the sink completely clutter free. The floor to ceiling window and skylight also allow the light to flood in and the light colours add to the illusion of space.
Consider a peninsula or breakfast bar
If you have the space for some seating, consider a peninsula at the end of the galley kitchen. Choose chairs that can be tucked away under the peninsula so that you can use the extra worktop space for food prep.
This linear kitchen by Harvey Jones has clever seating hidden away at the very end. We also love the high wall cupboards that are not too imposing in this kitchen.
Published: January 21, 2019