Your Guide - Kitchen Worktops
Favourite
With such a huge variety of kitchen worktops to choose from, you can make your kitchen look individual as well as practical for your needs. There is an endless choice of colour, style and finish to suit all budgets, so here is our guide to help you pick the best for your kitchen.
If you are planning a kitchen and need some help finding a local kitchen designer, we can match you with the most suitable ones for your project.
Solid wood worktops
Solid wood worktops are a cost-effective option for your kitchen worktops without having to compromise on style or quality. There is a huge range to choose from that will suit your style of kitchen. 
Go for a solid oak worktop if you have a traditional country kitchen or a walnut surface if you want a more contemporary look. Solid wood looks great mixed with other surfaces, so think about having wood on your island and marble or granite on your other units. 
We adore the kitchen below by Craigie Woodworks with the lovely oak area on the island unit which is mixed with a modern engineered stone, perfectly warming the modern white kitchen.
Expect to pay from £40 per metre, however the cost will vary depending on type and quality of wood.
Pros
A cost-effective option

A solid wooden worktop always has great character and looks high quality
Cons
High maintenance as you have to oil it regularly (every 3-6 months) in order to stop water marks appearing

Prone to scratching although can be sanded down
A stunning solid oak worktop in this kitchen by Craigie Woodworks
Marble worktops
Easily one of our very favourite looking worktops is marble, particularly a beautiful white one. Marble is an elegant and timeless choice for your kitchen surface and is so bright and individual in pattern as it's a natural stone. The hardest thing about marble is the staining, which puts a lot of people off!
Expect to pay around £200-£300 per metre.

Pros

Classic and elegant finish

Naturally cool and doesn't conduct heat, so perfect for keen bakers
Cons
Porous and stains easily, so this is not a good option if you like red wine or cooking with spices!

Scratches easily
Stunning marble waterfall island unit, worktop and splashback. Kitchen and worktops by Cast by The London Joinery
Engineered stone worktops
Engineered stone is made from a combination of quartz (normally around 90%) and resin. As it's non-porous, it is an extremely low maintenance and hard-wearing option. 
Engineered stone worktops come in a huge range of colours and finish, so can look great in either modern or traditional kitchens. The colour is more uniform than granite or marble, so your worktop will be the same as the sample you have seen. 
What makes engineered stone so popular is it's a great alternative to the light marbles and there are some wonderful imitations now. We love the kitchen below with the worktops by Cawdor Stone.
Expect to pay around £300 per metre.
Pros
Non porous
Easy to maintain
Scratch resistant
Cons
Not as heat-resistant as granite so good to be careful with pots and pans
The uniform nature means it doesn't look as natural as granite or marble
Beautiful marble effect engineered stone by Cawdor Stone
Concrete worktops
Polished concrete worktops are a good choice if you want to try something unique in your kitchen. To stop the concrete looking dull, colour can be added to the mix to make your surface brighter and more interesting. Concrete worktops are either made out of a cast off-site or else made in your kitchen directly on your counters. 
Driven by the industrial trend, concrete worktops have become so popular over the past few years and perfect if you would like something a bit different.
Polished concrete surface starts at around £300 per metre.
Pros
Once sealed, concrete is heat-resistant and durable
Adds character to your kitchen
It can be cast in any shape for your kitchen worktop
Cons
It needs to be re-sealed every few years otherwise it will stain
Can develop hairline cracks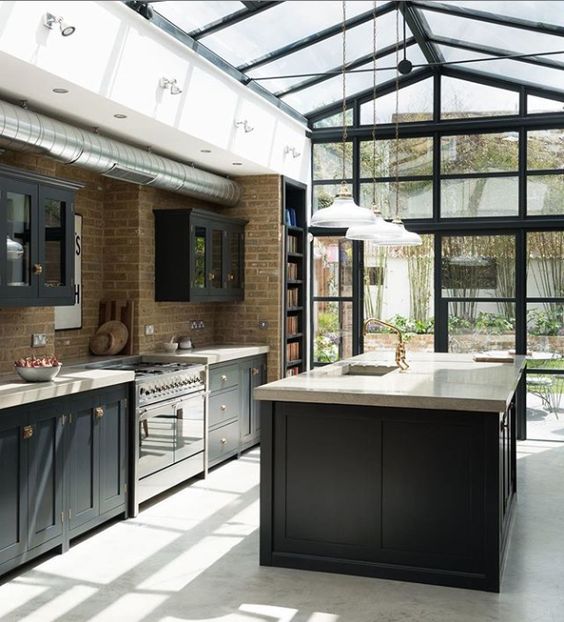 Stunning kitchen by deVOL with a concrete worktop


Solid kitchen worktop
A solid surface, such as Corian, is an increasingly popular choice in the UK. This super smooth surface looks great in a contemporary kitchen, particularly finished in white or a pale colour. For a seamless look, the sink can be fitted into your worktop without any joints. 
Expect to pay between £300-£400 per metre.
Pros
Loads of colour options available
Seamless flow
Non porous so it is stain resistant
Cons
Although heat-resistant to an extent, high heat will damage the surface
Can scratch
Corian worktops look perfect in this deep blue kitchen. Kitchen by Kitchen Coordination
Granite worktops
Granite worktops were popular in a premium kitchen about 10 - 20 years ago, but over the past few years have become less popular as renovators are favouring white worktops. 
We are however seeing it grow again in popularity with some of the darker choices now - particularly with a marbled look rather than spotted granite.
The best thing about granite is that each slab is completely different, giving you a unique worktop for your kitchen. When sealed properly, it is extremely resistant to heat and staining, so one of the best wearing worktops. 

Expect to pay £200-£300 per metre, however the cost will vary depending on quality and type of granite.
Pros

Heat resistant

Once sealed granite is resistant to most stains, although be careful of citric acids
Low maintenance and can be polished to look really smart
Extremely tough and is unlikely to scratch or chip
Cons
Porous so it must be sealed to avoid marking
Stunning granite worktops which work so well with the navy units and brass handles - a really modern look. Worktops by Cawdor Stone.
Stainless steel worktops
Stainless steel is a great option if you want to achieve the look of an industrial kitchen and something a bit different. If you are not brave enough to go for this throughout your kitchen, consider using it on your island unit only. Also very popular is copper, which has many of the same pros and cons.
Expect to pay around £300 per metre.
Pros
Extremely hygienic which is why it's used in commercial kitchens

Heat and stain resistant
Easy to clean and can be polished with olive or baby oil to look good
No joints as stainless steel can be cut from one run of steel
Cons
It can look clinical and commercial if not mixed with the right kitchen cabinets (See below for the perfect look!)

Prone to scratching
Extremely cold
Stainless steel looks so modern in this kitchen by HØLTE
Laminate kitchen worktops
Laminate is a great option if you don't want to spend a fortune. There is so much laminate to choose from and the quality is getting much better, so don't think of it as an old fashioned choice anymore. You can mimic most looks including wood and granite, so it's suitable for either a traditional or contemporary kitchen. 
Expect to pay from £30 per metre.
Pros
Extremely affordable

Low maintenance
Lots of colour options
Cons
Susceptible to cracking and chipping, particularly around the edges

Not particularly durable or heat-resistant
Can look cheap if chosen incorrectly
If you need some help finding a local kitchen designer, we can match you with the most suitable ones for your project.
Published: March 16, 2020