7 Of The Best Copper Pendant Lights
Favourite
Copper continues to be a huge trend in the home, adding so much warmth and style. Copper works well with both contemporary and traditional interiors, which is why it's such a popular choice.
Copper pendant lights are a great way to introduce the material into your home, especially in the kitchen where they work wonderfully above an island, peninsula or dining table.
So here are our favourite copper pendant lights to give you some wonderful ideas.
Brooklyn Copper Pendant Light: £149, Industville
We love this classic dome shaped copper pendant light, which would create the perfect industrial finish in any kitchen.
This is the perfect pendant to hang in a classic shaker kitchen, painted in deep blue or dark green. The matt finish gives it an understated finish which means it wouldn't dominate your kitchen, just add some warmth to it.
Size: H 33 x W 33 cm
Void Copper Pendant Light: £350, Tom Dixon
This pendant light is made from solid copper, so it's an investment piece for a high quality product. The smaller height means it won't look too large and would work well with two or three in a row, either over the dining table or an island.
The polished finish and shape gives it a stunning modern look, which would add glamour to any home. We also love the shape which conceals the light...a very clever idea which creates a truly unique style.
Size: H 15.5 x D 30 cm
Dexter Copper Pendant Light: £111, Pooky
A classic shaped pendant light, this is the ultimate copper pendant light which would love stunning over any island unit. 
It has been finished with a gentle polish, which gives it a nice shiny finish without being too modern looking. We think this is the perfect light above any traditional kitchen island.
Size: H 20 x W 29 cm
Antique Copper & Glass Pendant Light: £95, Cox & Cox
If you only want accents of copper, then this glass and copper light is a stylish choice.
It has a wonderful industrial contemporary style, which would look amazing hanging over a bedside table, or as a group of three over a kitchen island. As it's small and simplistic looking, it's perfect for smaller kitchens too.
Size: H 28 x D 19 cm
Bow Copper Pendant Light: £69, Made.com
This modern dome shaped copper pendant light is priced well and would look perfect in a contemporary home, working well in any room of the house. The polished finish gives it some glamour and would make it really stand out.
It's fairly wide in size, so if you are hanging it in the kitchen as a group of two or three, make sure you leave a gap of roughly the width of the pendant between each one.
Size: H 35 x W 24 cm
Dimple Effect Copper Pendant Light: £60, Lights 4 Living
Another modern style pendant, with the dimple effect giving it a lovely textured finish which gives it a handmade artisan look.
The shape and size of this light means it would work well hung as two or three over a dining table or island unit, without looking too cluttered.
Size: H 24 x D 20 cm
Fisherman's Vintage Polished Copper Pedant Light: £35, Amazon
This is a classic style of light which has been popular in so many finishes for a long time. The polished copper gives a modern look to what is a traditional style of light. 
It's also priced so well, which means you can easily update your look without spending a fortune.
Size: H 25 x D 24.5 cm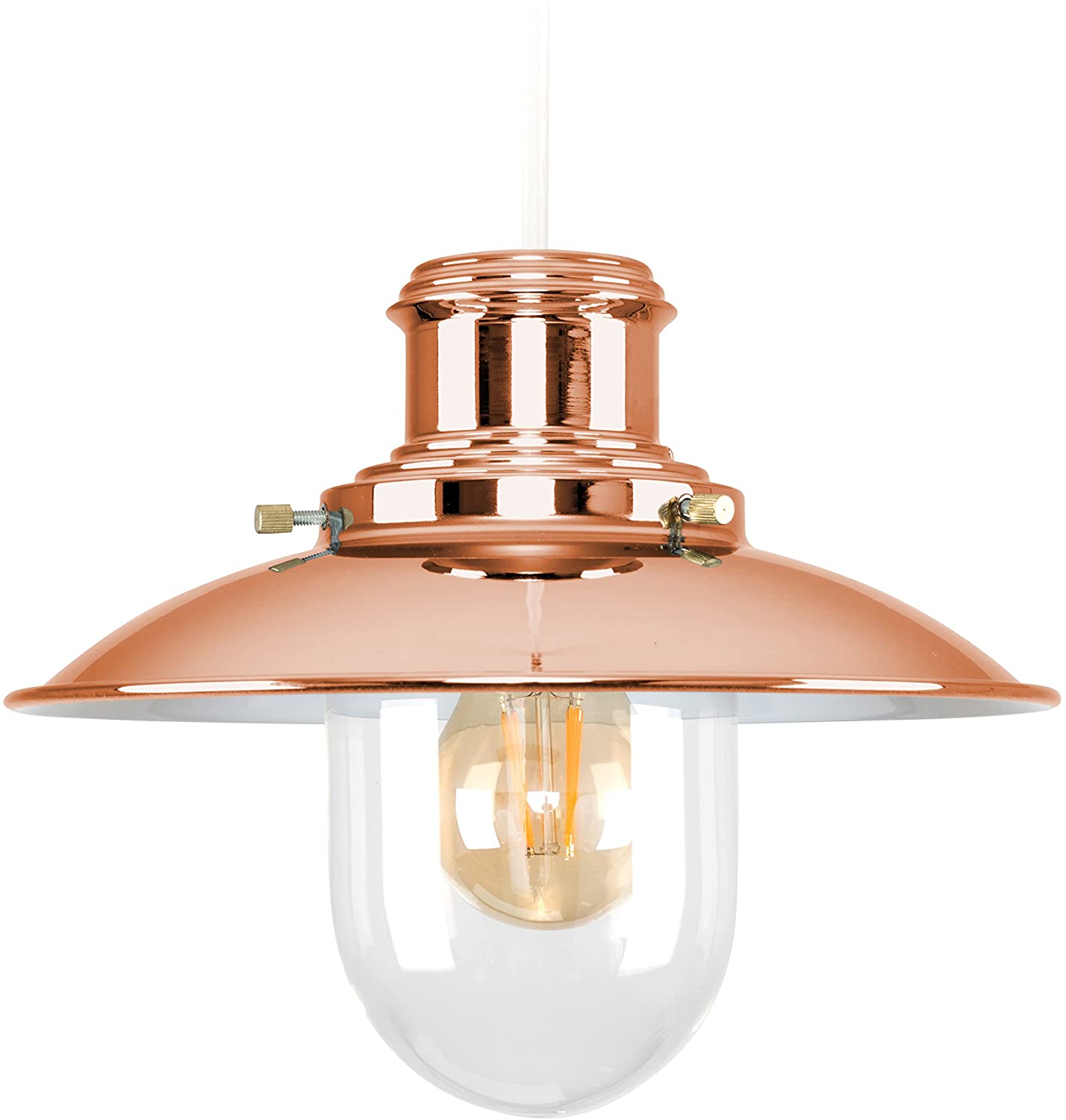 Published: November 11, 2020