Expert advice - engineered wood flooring
Engineered wood is a beautiful and natural choice of flooring. With such a wide range of timbers, pattern and finish now available, it is becoming an increasingly popular choice throughout the home.
We catch up with The Natural Wood Floor Company to tell us some more about engineered wood.
Love Renovate: What are the benefits of engineered wood flooring?
The Natural Wood Floor Company: Engineered flooring looks just like a traditional solid floor when it's laid, but rather than being a single, solid plank of wood, it's made of layers of hardwood ply sandwiched together. This makes the board stronger and more stable. This matters because the strength limits movement in the wood when it's exposed to changes in heat and humidity levels. This means you can use it in kitchens, washrooms, conservatories, utility rooms and with most underfloor heating systems.
Engineered boards can also be wider and longer than those made from solid wood. It's a versatile way of making wooden flooring and there are lots of design options, incorporating different textures, colours and plank sizes. Engineered parquet and chevron blocks are particularly popular right now, along with white and grey chalky hues.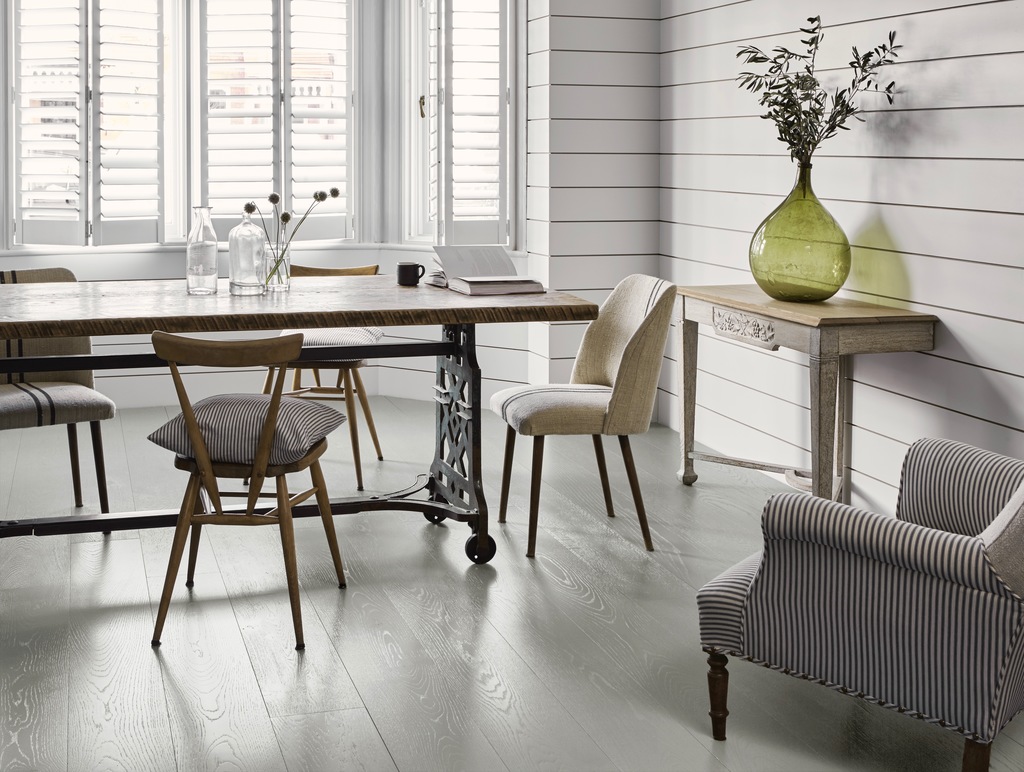 Love Renovate: How do I take care of my engineered wood flooring?
NWFC: Regularly sweep or vacuum the floor to remove loose dust and dirt and use a good quality cleaning product from a specialist company. When mopping, never pour floor cleaner directly on to the floor and make sure that the mop is squeezed dry before use.
For an annual, deep, protective clean, apply a liquid wax to oiled floors and a polish to lacquered floors. This will fill in any minor scratches and scuffs plus provide the wood with a brand new, hardwearing coat. Clean the floor thoroughly first to avoid sealing in any marks. Both products are applied with a mop, so it's a quick and easy job.
Love Renovate: What style of engineered wood is popular at the moment?
NWFC: If you want to go for a current look think soft white washes and subtle greys tones, along with chevron and parquet designs. These are of the moment but as they are also classic designs, they won't date.
Peter Keane, Director of The Natural Wood Floor Company explains: "The Nordic theme is still very much in vogue. We have some new boards that tie in with it nicely and as they are subtle, they won't date - it is important to choose a floor you can live with in the long term, as they last for a very long time. Our Dusk board, is lightly wire brushed to enhance the wood's grain and it is coloured a contemporary grey. New England is a creamy buttermilk colour board and White Brushed is light shades of natural oak with hints of white, sand and also a chocolate grey. Unlike painted floorboards, they won't blister, chip or scar and are perfect for family homes where the floor often takes a pounding."
Love Renovate: Can I have wood floors throughout my entire house?
NWFC: Yes. There's nothing quite like a wooden floor for bringing warmth, texture and style into the home. As well as looking fantastic, wood is very practical as it's easy to maintain and is extremely hardwearing. Sustainably sourced timber has great environmental credentials too. In fact, it's the most versatile floor surface you can get. With a full spectrum of coloured finishes available, it's easy to create an individual floor with a bespoke look and feel. Timber can easily be renovated too by re-sanding and sealing the surface.
Love Renovate: Can I install underfloor heating under engineered wood?
NWFC: Engineered flooring is a more stable option than solid wood, so is a better choice with underfloor heating. This is because the ply layers become very rigid when sandwiched together, which reduces the wood's natural tendency to expand when exposed to humidity or temperature changes.
The multi layer ply also reduces the risk of cupping (which occurs when the edges at the width of the plank push up, creating a corrugated, uneven effect on the floor). This is most obvious with wider boards, so narrower widths of engineered flooring (135 mm – 180 mm) are particularly recommended with underfloor heating. Engineered boards up to 240mm can be used for less heat intense areas.
Love Renovate: How long does it last before it needs to be replaced?
NWFC: Good quality wooden flooring will last a lifetime if it's properly maintained and looked after. With a lacquered wood floor, the finish will last between 5 to 10 years. If you use the correct cleaning products, you can maintain the finish for longer. Pre-oiled floors will need a new coat of oil every 12 to 18 months, but you only need to reapply over areas that are used daily.
Love Renovate: What thickness do you recommend?
NWFC: If the floor is being used as an overlay, so is being fitted over an existing floor, we'd recommend a 15 mm thick floor. If it's being used as a structural floor i.e - laid on tops of joists you will need a 20 mm thick board.
Love Renovate: Do you require underlay or does it go on top of floorboards or concrete?
NWFC: Underlays that reduce noise can be used under floating floors (ie engineered floors that are not physically fixed to the sub floor).
"These are ideal for flats, especially those on upper levels. Basements and new extensions can benefit from a damp resistant underlay fitted over recently poured concrete, which gives a cushioned feel underfoot. There is also an underlay specifically for use with underfloor heating," says Peter.
Love Renovate: How much should I expect to pay for good quality flooring (per metre squared)?
NWFC: Factors that influence the price include; the grade of wood, width of the board, depth of board, species, if it's unsealed or pre-finished and if it's been treated with any specialist manufacturing techniques such as distressing, brushing or baking. As a general guide, a good quality oak unsealed oak floor is around £52, a pre-finished coloured oak board would be £60, and you can expect to pay around £65 per square metre for a walnut board.
Love Renovate: What widths does your flooring come in and how do they vary in price?
NWFC: At The Natural Wood Floor Company our boards generally range from between 125 mm to 240 mm. The trend used to be for really wide boards, but we've seen a shift away from this, towards narrower widths. That's why we've just introduced two new narrow oak boards at 70 mm and 100 mm wide.
Love Renovate: Is there anything else I need to know?
NWFC: At the Natural Wood Floor Company we go out of our way to make sure photographs do our floors justice, but nothing beats a visit to the showroom where you can see and touch the real thing. Also, buying a floor is a big investment and you want to get it exactly right. Expert advice is essential. Our staff are passionate about wood flooring and they've worked with us for years and really know their stuff.
To determine the quality of flooring, make sure a natural grade floor isn't overly knotty, that all boards fit together tightly and that the surface feels smooth. If the flooring is pre-finished, make sure at least five coats of a recognisable branded sealer have been applied.
It's important to buy wood flooring from an established supplier with a good reputation, whose products are manufactured from sustainable sources. There are a lot of inferior quality products on the market, and they aren't necessarily cheaper. When it comes to wood flooring, it really pays to do your research.
Published: September 21, 2018
Search for local businesses
Related articles
Expert advice - restoring parquet flooring
Expert advice - solid wood flooring
Expert advice - polished concrete flooring