Your guide - kitchen flooring
Favourite
There is so much choice now when choosing a new kitchen floor that you can find the perfect flooring for your style of kitchen and budget. With much to consider including comfort, maintenance and look, here is our handy guide.
Solid wood
Solid wood is a timeless choice for your kitchen floor and will last for years. There are so many styles to choose from that you can find the perfect wooden floor for traditional and modern homes alike. Choose from beautiful weathered oak for the country cottage or a smooth wide plank for a contemporary kitchen. 
Solid wood can range hugely in price depending on the quality and species, however expect to pay from around £40 per square metre for good quality solid wood flooring.
Pros
Can be sanded down and oiled or varnished to change the look

Naturally warm underfoot
Can look even better when it's worn
Cons
Hard underfoot
Can expand and contract with changes in temperature
Marks and scratches easily, although it can be sanded down
Not suitable for underfloor heating
Noisy - so not ideal if you live in a first floor flat!
Engineered wood
Fast becoming one of the most popular choices in flooring, engineered wood is a beautiful option for the kitchen area, giving the look of solid wood but is less prone to moving. Engineered flooring is made up of layers of hardwood ply sandwiched together, making it more stable. Similar to solid wood, there is a huge range of finishes so you will be able to find the perfect style for your kitchen. 
Expect to pay in the range of £50-£60 per square metre for good quality engineered wood, although the price will vary depending on the quality and variety of wood.

Pros
Beautiful look of solid wood but with more stability
Can be sanded normally 2-3 times in its lifetime
Suitable for underfloor heating
Naturally warm
Cons
Scratches easily
Hard underfoot
Similar to wood, engineered wood is noisy although you can fit underlay to reduce the noise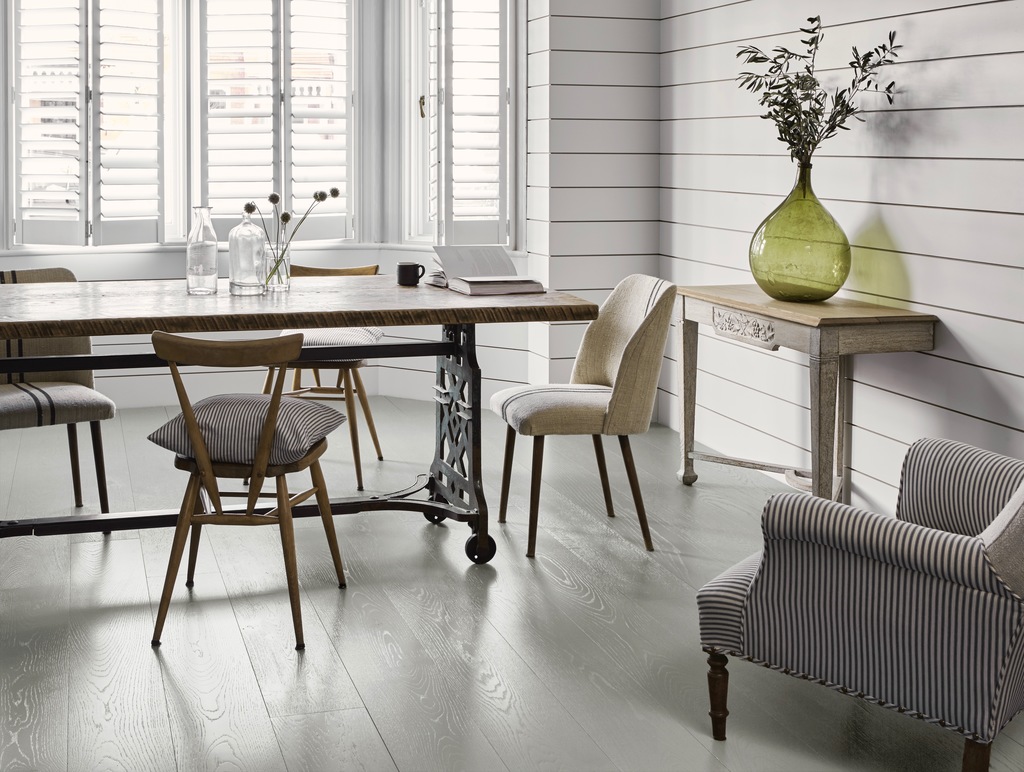 Vinyl
Good quality vinyl is an excellent choice for a busy family kitchen. We are seeing a huge surge in popularity as it is extremely hardwearing and can be cleaned really easily. It's also softer underfoot than most other options in the kitchen, so perfect if you have young children. Vinyl comes in so many finishes and replicates the design of wood or tiles as well as striking bright prints. Make sure you invest in good quality vinyl as cheap varieties will be prone to tear. 
Luxury vinyl costs around £20-£40 per square metre.
Pros
Soft underfoot
Naturally warm
Easy to clean, so perfect for the kitchen
Does not mark easily and good quality vinyl is robust
Suitable for underfloor heating although do check with your manufacturer on a suitable temperature
Good value for money
Cons
Man made so can lack a natural character
Shorter lifespan with around 15 years for high quality
Natural stone
A very traditional and classic option, there are so many beautiful varieties of natural stone with limestone and slate being popular choices for the kitchen. It's easy to clean and a great conductor of heat but think carefully if you have a young family as it is very hard. It looks perfect with shaker and traditional styles of kitchen. 
Expect to pay £30-£40 per square metre.
Pros
Best conductor of heat for underfloor heating
It looks visually stunning
Cons
Cold underfoot without underfloor heating
Extremely hard
Can look grubby in light colours if it's not maintained and cared for
Needs to be sealed to avoid marks from grease and staining
Porcelain tiles
A great alternative to natural stone, porcelain tiles can really look like natural stone but it's easier to maintain. There are so many varieties now that can have the effect of not only stone but also wood and concrete. There are also great versions that copy high maintenance tiles such as marble, so you can achieve the look without the worry over marking your floor. Ceramic tiles are a slightly cheaper option although are more porous and less hard-wearing than porcelain. 
Expect to pay £30-£40 per square metre.
Pros
Extremely hardwearing
Little maintenance and easy to clean
Suitable for underfloor heating
Cons
Cold without underfloor heating
If they chip you cannot repair them
Hard underfoot so not ideal if you have small children
Laminate
Good quality laminate flooring can look really smart as well as being a cost-effective option. It's made from high density fibreboard with the image laminated to the surface layer, therefore it comes in a huge range of finishes including a wood and tile finish. There are some great options now which are far better quality than the cheaper versions popular in the 90's. 
Laminate costs in the region of £15-£25 per square metre.
Pros
Extremely cost-effective
Hardwearing
Suitable for most underfloor heating although always check with the manufacturer
Easy to clean
Moisture resistant and doesn't need to be sealed
Cons
Can be hard underfoot
Noisy
Rubber
Rubber flooring is a great low maintenance flooring. Available in many different colours and patterns, it is ideal for a busy family home as its also soft underfoot. Rubber is a great choice for a modern kitchen. 
Good quality rubber will cost around £30-£40 per square metre.
Pros
Warm underfoot
Easy to clean
Soft underfoot
Great sound insulator
Cons
Can be slippy, so best to choose the textured kind
Grease may mark, so be careful to clean up a spillage quickly
Polished concrete
A very on trend choice, polished concrete looks smart and is also extremely hardwearing for your kitchen. The perfect look for an industrial kitchen or if you want to go for a minimal artisan look. The polished look in a light colour can also help make the room feel more spacious by reflecting light around the room. Do make sure you get a professional to lay it though as done incorrectly, it will easily crack. 
It can vary in price but expect to pay around £120 per square metre.
Pros
Works well over an uneven surface
Extremely tough and easy to clean
Comes in a variety of colours
Suitable for underfloor heating
Good thermal properties
Cons
Very hard, so not ideal if you have a young family
Cold underfoot so you need underfloor heating
Extremely hard so crockery will be easily smashed
Requires regular re-sealing
Published: October 25, 2018