Inspiring shaker style kitchens
Shaker kitchens have been one of the most popular styles of kitchens over the past decade. Over the past few years we have seen a real shift though, where light coloured shaker kitchens used to dominate, we now see bold colours really adding a twist to this beautiful style of kitchen. What's more, hand painted shaker kitchens can be repainted, so you can be brave and change when you are ready for a new look in your kitchen.
We pick some of our very favourite shaker kitchens to give you some inspiration to create your dream shaker style kitchen. From the classic timeless cream shaker to the bold and bright shaker island units, we have covered them all off!
Don't be afraid to go as dark as possible
This kitchen is perfection in our eyes. Painted in a midnight blue and paired with classic brass taps and handles, it has a real presence. We adore the tall cupboards and think this shaker style kitchen would look at home in a period property with a high ceiling, like in the photo.
This bespoke shaker style kitchen by Brayer Design proves that even if you paint all of your kitchen units in a dark shade, the room can still look bright and airy, providing you get the lighting right and combine it with light painted walls and tiles.
Kitchen by Brayer Design
Mix the classic grey with a darker island unit
We love the combination of a light grey shaker style unit combined with a darker island unit, and this kitchen by @thewhitepinesproject on Instagram showcases it to perfection.
The Lily Pad tiles used as the splashback and the glass pendants above the island unit, give this shaker style kitchen a modern look, which would look equally as good in both period and modern homes.
Kitchen from @thewhitepinesproject
Consider a brighter blue rather than the classic dark shade
This shaker style kitchen below radiates so much charm and happiness and we can imagine it is located in a beautiful coastal home. The copper taps are fun and the modern subway tiles add to the fresh feel in this kitchen.
This gorgeous handmade kitchen by Mark Taylor Design also has a fantastic movable island unit, which is perfect if you need more room if you are hosting a party or have children running around. We literally love this so much.
Kitchen by Mark Taylor Design
Mix modern trends
The best thing about shaker style kitchens is that you can incorporate lots of modern trends and, as they are such a classic style, they compliment them beautifully.
The shaker style kitchen below is from the beautiful Victorian home of @thehousemalarky on Instagram. The gorgeous deep blue is classically paired with the timeless marble worktop, but what we love the most is how it works so well with the herringbone splashback and the on trend penny tiles.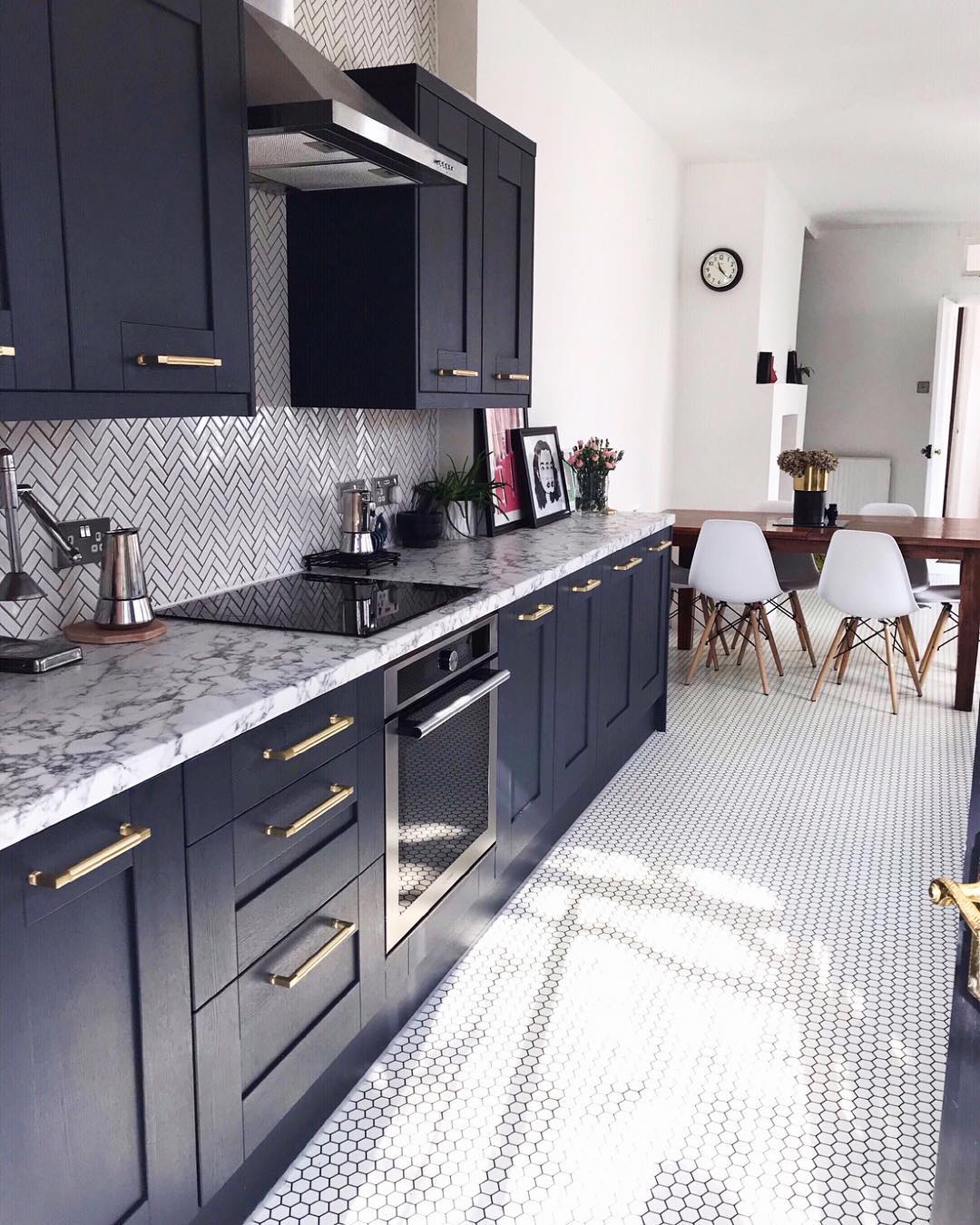 Kitchen from @thehousemalarky
Make the island unit the stand out feature

We were so excited when we came across this bright red island unit by The Shaker Kitchen Company. The rest of the kitchen is in a classic stone colour and looks perfect with the classic marble worktop, allowing this amazing island unit to take centre stage. It gives this shaker style kitchen so much personality and life and is perfect in a family kitchen.
We also love how this home has teamed the classic shaker with the modern aluminium windows, really mixing tradition with a modern look. The simple light bulb pendants also look amazing.
This kitchen just goes to show that you can go for a really bold piece when mixed with understated elegance.

Kitchen by The Shaker Kitchen Company
Choose a tall pantry
A pantry looks so at home in a shaker style kitchen. We love this kitchen by Cotteswood Kitchens and how they have used the whole wall to create a large pantry and floor to ceiling cupboards. The shaker kitchen also works well with a peninsula rather than a large island. Again, this is a lovely example of mixing two different shades of colour in the classic shaker kitchen.
Kitchen by Cotteswood Kitchens
Classic light painted shaker is a timeless choice
For timeless charm, a shaker style kitchen in a light cream can just look stunning. The detail can be in the lighting, flooring and the fittings.
This shaker style kitchen by Neptune is just beautiful in this period property. We love the chunky marble worktop and the mixture of the brass taps and black handles. The large sash windows and the Victorian school radiator compliment this shaker kitchen in every way. Light, bright and perfect!
Kitchen by Neptune
Published: July 31, 2019
Search for local businesses
Related articles
Kitchen extension ideas
Find the best London kitchen showrooms
Find a kitchen showroom near me