Renovating A Victorian House - Your Guide
Favourite
Known for their high ceilings, beautiful features and sense of history, renovating a Victorian house is a sought after project in the UK.
We see so many stunning renovated Victorian homes, from small terraced Victorian houses to large Victorian villas, all with so much presence and character. 
Victorian houses are solid and well built homes, and there are so many ways which you can renovate a Victorian home to bring it up to date and suitable for modern living, from extending into the loft space to knocking through walls to open up the space.
We look at the different options available, what the process is and some amazing ideas to help when renovating a Victorian house.
If you are thinking about a renovation in the near future and need some help finding an architect or designer, we can match you with the most suitable ones for your project.
Beautifully renovated Victorian house by Ask My Architect
What are the benefits of renovating a Victorian house?
With high ceilings and plenty of original features, renovating a Victorian house can create the most beautiful home. 
Victorian houses are well built with thick walls and have the potential for so much kerb appeal. We love seeing Victorian homes that are brought back to life if they have been neglected for years, with the beautiful period features restored.
Where to start when renovating a Victorian house?
If you are carrying out any type of extension, then the best place to start is with a local architect who can help with the designs, planning applications and project management.
There are a few things to consider when renovating a Victorian house which makes having a local architect helpful. Many Victorian houses are located in conservation areas which means any extension you are carrying out will require planning permission. A local architect will have worked on similar projects in your area and will be skilled at designing an extension that will be successful at planning, whether it's a traditional extension in keeping with the Victorian home or something contemporary.
It might be that you are just looking to modernise the inside by knocking through walls or updating the front of the Victorian house. You may not need to work with an architect but work directly with a builder, interior designer and, if you are knocking down walls, a structural engineer.
Our step by step checklist will guide you through the detailed steps of renovating a Victorian house.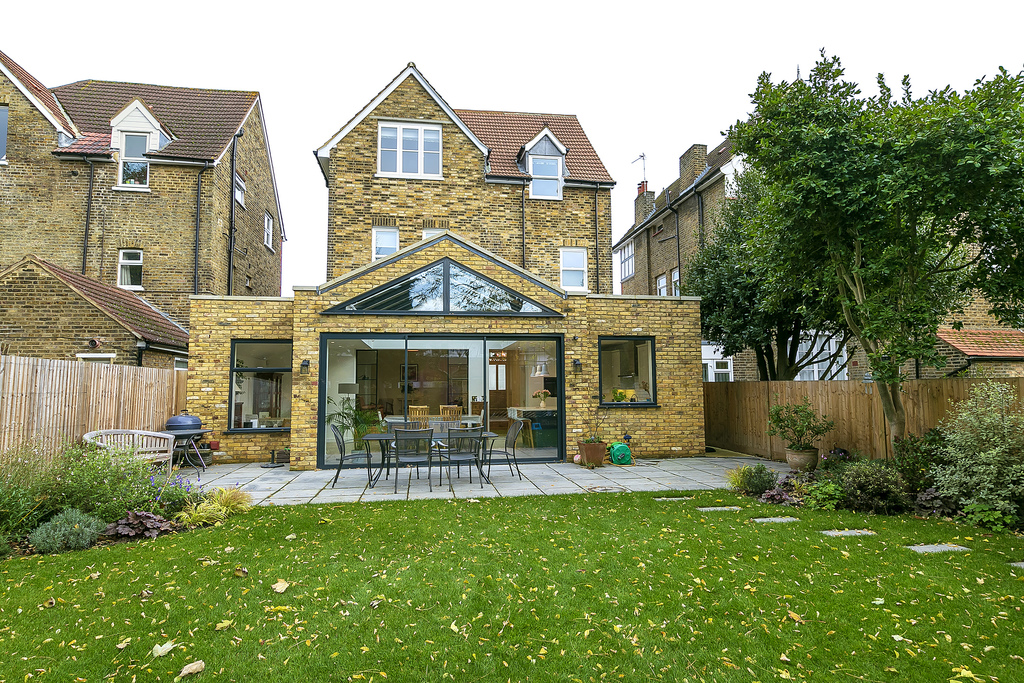 A large rear extension on a Victorian house by Simon Merrony Architects
How much does it cost to renovate a Victorian house?
The cost of renovating a Victorian house can vary based on many factors including the scale and type of project, how many period features you are reinstating, the condition of the original house, where you live in the country and the finish that you require. 
The best place to start to get a high level figure for the cost of renovating a Victorian house is our extension cost calculator. Our extension cost calculator is a guide to the overall budget and you can then refine the cost when you start working with your architect and builder.
Beautiful contemporary side return extension onto this Victorian home from Insta account @victorianhome_estd1883
What type of extension can I have on a Victorian house?
The type of extension will be dependent on the type of Victorian house. 
Side return extensions
Side returns are a popular type of extension on terraced Victorian houses, where there is limited space to extend. The home is extended into the side return, which is normally wasted space, where adding another metre or so can dramatically change the size of the kitchen. This is a fairly inexpensive and straightforward way to extend.
Rear extension
If your Victorian house has a decent size of garden, then extending to the rear is a popular way to significantly add space to your living space, creating a wonderful open plan area. This can either be single or double storey, depending on how much additional space you need.
Wraparound extension
This is the combination of both the side return and rear extension and is extremely popular when renovating a Victorian house.
Loft conversion
A loft conversion is a great way to add another bedroom and bathroom in a Victorian house. 
Homes built in the Victorian period have lofts which are traditionally framed, where everything was made and cut to size on site. This normally makes converting the loft straightforward as the space can be opened up easily and the rafters strengthened for support. 
If you want to find out more about loft conversions then read Your Guide - Loft Conversions.
Basement conversion
Less common are basement conversions, mainly because they are the most expensive way of adding space to your home.
Many Victorian houses have existing basements or cellars, which is a far simpler and cost effective basement conversion. If you are creating a new basement then this is a far more costly and challenging renovation. To find out more, read Your Guide - Basement Conversions.
Renovation and basement conversion of a period property by George & James Architects
What style of extension works well on a Victorian house?
Many renovators like to keep the style sympathetic to the original house. If you are able to extend within permitted development and want to go down this route, then you most definitely need to keep the style of extension in-keeping with the original home.
For a seamless flow from the original extension, keeping the brickwork the same works well and then modernising the extension by using contemporary glazing, such as minimal frame sliding doors or Crittall style doors.
We see some amazing contemporary extensions too on Victorian houses which contrast perfectly with the original home...extensions finished in aluminium or corten steel can make a wonderful statement. This type of extension will almost certainly require planning permission and will not be within permitted development.
A side return extension on a Victorian house with contemporary glazing by CCASA Architects
What regulations and consents should you be aware of?
If you are doing any kind of extension or changing the exterior of your Victorian house, you may need to go through the planning permission process.
Some extensions can be carried out within permitted development, however this can be limiting on the size and style. Additionally, if you are in a conservation area then you will be required to apply for planning permission no matter whether your extension meets the other permitted development requirements. Even changing things such as the windows may require in a conservation area. For more information read Your Guide - Planning Permission. 
The Party Wall Act applies to many renovation projects in England and Wales, particularly when they are terraced or semi detached homes. So if you are carrying out a project such as a loft conversion or extension then you will need to consider whether the Party Wall Act impacts you. To find out more, read Your Guide Party Wall Agreement.
If you are doing any kind of structural work then you will need to comply with building regulations, to ensure the work is safe and meets the minimum requirements. Read guide on Building Regulations for more information.
What if you don't want to extend your Victorian house?
Many Victorian houses have plenty of space, however they can be a series of smaller rooms which require more flow and light.
Consider knocking through the front reception room into the back and even the hallway, which will add light and also allow you to use the space better. 
The Victorian house has been opened up, allowing so much light to flow through the house, by Novak Hiles Architects
What are popular flooring options when renovating a Victorian house?
We see so many amazing surprises when owners are renovating Victorian houses and pull back the carpet. Particularly in the hallway, you can find amazing original encaustic style tiles or beautiful wooden flooring. A professional will be able to help guide you on whether the flooring can be restored, where often flooring in a bad state of disrepair can be still be restored.
If you aren't lucky enough to find original flooring, replacing the floor with a Victorian style of floor is the next best option. There are amazing tiles, parquet effect flooring and oak floorboards which are so popular with Victorian houses.
In terms of stairs, runners are a popular choice which are sympathetic to the period of home.
Beautiful original flooring in the Victorian home of @love_this_old_house
What changes can I make to the front of my Victorian house?
Exposed brickwork on the front of a Victorian house looks beautiful and allows the features such as the windows and paint work to stand out. If the brickwork is in a state of disrepair then re-pointing the brickwork will smarten the outside as well as prevent any potential damp issues and improve the overall structure.
As Victorian homes would have originally been made with a breathable lime mortar then this should be used when pointing, rather than cement. Lime allows your home to breath which will help prevent dampness. 
A front path in keeping with the period of the home can also add to the kerb appeal, as well as a statement front door finished in a heritage colour.
Beautiful repointed brickwork with statement black windows and doors from Insta account richardson_renovation
What original features are common in a Victorian house?
There are many beautiful original features in Victorian houses. When renovating your Victorian house you can either keep the original feature if it's in good condition, use a specialist to restore an original feature or replace it with a reclaimed version or new replica.
Architraves, cornicing and ceiling roses
High ceilings are common in a Victorian house and were originally dressed with beautiful architrave, cornicing and ceiling roses. 
Sadly, many homeowners removed these original features however you can replace them using replica moulds of the originals, set in plaster or made with mdf, depending on your budget.
Fireplaces 
Having a fireplace was common in most rooms and is such a beautiful feature of Victorian houses. Many Victorian homes will still have these in place, however there are many amazing stone, marble and iron fireplaces to recreate the look in your home.
Windows and doors
Another popular feature of Victorian houses are sash windows. If you live in a conservation area, you will need to keep the original styles of windows and if your home falls under Article 4 then planning permission to change the windows is a requirement.
Original sash windows can be restored, which is often cheaper than replacing them unless they are in an extremely poor condition. For more information read Expert advice - sash windows.
Large ornate front doors were popular in Victorian houses, as was stained glass a popular feature. 
Panelled internal doors are common which again you can replace if your home no longer has the original. It was popular in the Victorian period to paint these, a trend which we are seeing grow in popularity with many now painted in dark colours. 
We adore this lounge decorated in beautiful heritage colours with beautiful period features from Insta account @elle_the_home_bird
What colours are best to use to decorate a Victorian house?
Really anything goes in terms of colour schemes, so much of this is down to personal preferences and how much you want to reflect the original essence of the home.
Originally, Victorian houses were decorated in dark shades, so we are seeing a revival of deep greens, blues and blacks throughout Victorian houses. Going all out dark in areas like the hallway can be an amazing statement.
Heritage colours are also very popular, muted shades of green, fawn and dusky pink are again extremely popular, particularly in living rooms and bedrooms. 
If you are looking for a contemporary look and want to keep your room light and bright then consider white to create a blank canvas.
Stunning bathroom with a style in-keeping with the Victorian era, from Insta account @ourhomeinperryhill
Is there anything else I should consider when renovating a Victorian house?
Due to the age of the home, you may find some potential issues such as old electrics, plumbing or dampness. So make sure you have a decent contingency when you are renovating a Victorian house of around 15% as you will more than likely need it.
It's important to remember that you are restoring a home which has great beauty and style, so take time and care when preserving the original features.
If you are thinking about a renovation in the near future and need some help finding an architect or designer, we can match you with the most suitable ones for your project.
Published: April 27, 2021