A Seaside Victorian Renovation
Favourite
Beautiful high ceilings, original cornicing, feature fireplaces and the staircase of dreams....this weeks renovation tour is for anyone who loves period properties as much as we do!
The owners are slowly working their way around this beautiful property, bringing it back to life one room at a time. Not only do we love the decor, colours and furnishing choices, we think the location is just beautiful with a view onto the ocean....definitely on our wish list!
Thanks to Fiona from @seasidevictorianhome, who shares with us her renovation journey and pictures of her beautiful home!
Can you tell us about your home and renovation project?
We live in a semi detached late Victorian house by the seaside in Fife, Scotland. We loved the house as soon as we saw it - it has beautiful period features and great proportions but it needed some updating! We are lucky in that no major structural work is needed - the majority of the house just needs decorated & new flooring. However we do need to replace all our bathrooms and the kitchen is due a major overhaul, including relocating it and knocking down walls. 
We started with our main rooms and tackled the living room, our bedroom and the hallway first which were all straightforward decor. The very first thing we did was replace the gas fire in the living room with a wood burning stove which was the best decision ever!
We try to stick to traditional decor with a contemporary edge - pink features throughout the house and there's a lot of monochrome. 
Our current project is the main bathroom which desperately needed renovation and I can't wait to see the finished article! 
The impressive Victorian property
What was the most challenging part of the renovation?
So far, probably when our bathroom started leaking into our freshly decorated hall! Not really knowing where the leak was coming from and what damage it might have caused in the process was a bit stressful! It led us to doing the bathroom much quicker than we intended but the plus side is I can't wait to have a bath again and luckily there doesn't seem to have been too much damage caused.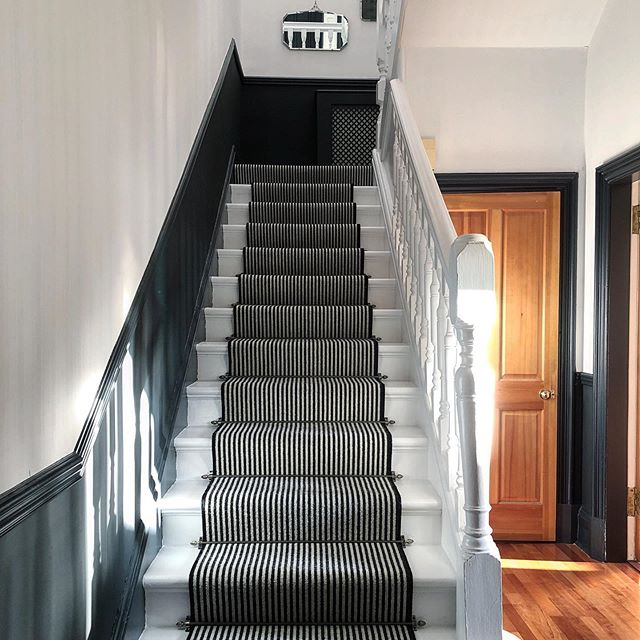 The staircase - one of our favourite features in the home!
Did you have a budget and how did you stick to it?
We didn't really have a budget. We had a little money left over from the sale of our last place so that went straight into the fireplace and initial decoration, and since that ran out we've been taking it a lot more slowly, room at a time. I'm not going to lie though, I'm DREADFUL at budgeting and really just end up going with whatever seems reasonable after a number of quotes!
The traditional bedroom with original cornicing
What is your favourite place in your home now and why?
Definitely our living room. The walls are a deep blue (Hague Blue by Farrow & Ball) and we have a pink velvet sofa and big comfy corner sofa to lounge on. The room gets a lot of light from a big bay window and the cornicing is beautiful in there. There's nothing better than getting the wood burning roaring on a cold night and snuggling up! 
We love the combination of colours in the living room

What is your biggest piece of advice for somebody about to start a renovation project?
Probably just working out what your priorities really are, if like us, you have a limited budget. We made a list of everything we needed to do then ranked them 1, 2 or 3 in order of importance. That way you can see what your joint priority areas are to tackle first. 
The guest bedroom is so unique in style - the wallpaper is amazing!

What do friends and family say about your home now?
I think everyone seems to like the place, particularly it's period features. Our home is nothing like the more modern ones we grew up in so perhaps our families are having to adjust to a slight chill when they come to visit (until the fire is on, of course!). I can't wait to have the kitchen completed though as it'll be a great social space for hosting. 
Published: January 6, 2020