Renovation Tour - A Tasteful Victorian Makeover
Favourite
Sometimes buyers are lucky enough to find a home that has a perfect layout and has been well maintained by the previous owners, giving them a blank canvas to make it truly beautiful (and no need to knock down walls or extend!).
This week we chat to Donna who owns @welcome_to_no.1 on Instagram, a Victorian semi-detached property that has been given the most stunning makeover, making it a warm and inviting home.
We chat to Donna who shares with us her renovation story and her advice to anyone about to start out.
Can you tell us about your home?
I live in Bromley, Kent with my husband, Tom, and miniature sausage dog, Peggy. We moved here in July 2017 and it's our first home – a three bed Victorian semi-detached. We previously rented a very small mid-terraced house together and so having more space and being able to decorate as we please has been amazing. We've learnt so much about our style just from being able to do what we want with our own property, using Pinterest and Instagram for inspiration and to document our journey.
Fortunately, when we bought the house it was in decent condition and the previous owners had recently refurbished the kitchen and bathroom (much to our taste, which was a bonus!). They had also been sensitive to the period of the property. We wanted to paint and remove existing wallpaper from all of the rooms first of all, to put our own stamp on each of them. So the first few weeks were spent painting and decorating (we got some help with this as we wanted it done quickly!). I'm a huge fan of paint and how much it can really transform a space. 
The lovely dining space leading into the kitchen
Shop the look
Walls - painted in Pigeon by Farrow & Ball
What work did you carry out in the house?
The first task was to decide on a colour palette for each room. A lot of the initial mood boards and ideas come from me, but Tom is always involved in making the final decisions. If he doesn't like something, I won't go for it. 
We booked a tradesman to help decorate the hallway and landing, living room and master bedroom fully first, stripping all of the wallpaper, painting walls, ceilings, doors and skirting boards. 
We decided to do something different to our usual style in the guest bedroom. It wasn't a room that we would spend much time in and so we went quite bold with the colour scheme. 
We ripped up the carpets and had the floorboards restored back to their original glory in both the guest room and the dressing room and we had our Carpenter fit a cupboard in the alcove in the guest bedroom to give us some extra storage space too. 
Next we decided to replace the carpet on the stairs. After hours of searching on Pinterest for inspiration, we found exactly what we wanted at our local Carpet Right store! Having a very small hallway means the staircase is the first thing you see when you walk into our home and we wanted it to have impact! We chose a statement print for the carpet and had it applied as a runner up the stairs, going into a full carpet along the landing. 
The bold guest bedroom which is so welcoming
Shop the look
Walls - Stiffkey Blue by Farrow & Ball
For the dressing room we opted for Farrow and Ball Oval Room blue, which is a lovely calming colour, and accessorised with pink to make it feel really girly. Tom doesn't get to spend much time in this room! 
All of the upstairs doors were in pretty bad condition, so we needed to replace all of those, which was quite an expensive task. The doors are unusually narrow and so our Carpenter had to spend quite a few days fitting them and altering the standard sized doors that we had purchased. 
As much as we loved the bathroom fixtures and fittings that were fitted by the previous owners (especially the roll top bath and mosaic tiles) the grey walls made the room feel quite cold. We decided to paint it using Farrow and Ball Sulking Room pink for the walls and Purbeck Stone for the woodwork. The colours complimented one another beautifully and really warmed up the space. Adding accessories, such as the bath caddy and plants allowed us to put our own stamp on this room. 
Having started an Instagram account to document our journey and find inspiration, we fell in love with panelling. The most recent thing we did was to have this added to our master bedroom and our staircase, which has made such a difference and works so well with the period of the property. We've also started to make small changes to rooms now we've found our style, such as add new lighting. 
We also decided to paint all of our internal doors dark. All of our door handles are solid glass. They're one of my favourite features as they look so beautiful when the light shines on them. On the theme of painting things dark, we decided to paint the dining room table too. It used to be white. Seeing the difference that it made, we then decided to paint the fireplace, and more recently, the kitchen cabinets! This made me really nervous, but we think it really paid off. We've definitely got braver over time. 
The classic shaker kitchen which was already there when Donna moved in
What was the most challenging part of the renovation?
Tom proposed on the door step on the day we moved in, which was a huge surprise. So not only did we have a house to renovate, but we also had a wedding to plan and save for! We got married just 9 months later in Italy. So juggling time and funds on wedding planning and the house was a challenge, but it kept us very busy!  
Traditional bathroom with the stunning tiles and pink walls
Shop the look
Walls - Sulking Room Pink by Farrow & Ball
Did you have a budget and how did you stick to it?
Not necessarily, but this was our first owned home and we previously rented a fully furnished property. So as well as renovating, we also had to fund all new furniture….beds, sofas, dining room table, the full works. We prioritised the things we needed the most, in the rooms we would spend most time in, like the living room and master bedroom. 
We love the panelling in the master bedroom
Shop the look
Walls - Elephant's Breath by Farrow & Ball
What is your favourite place in your home and why?
My favourite room is our dining room. Although we don't spend as much time in here as we would like, we constantly pass through it to get to and from the kitchen, so we're able to admire it. 
We always get so many compliments about our ceiling light in this room, which we love. It was a fairly recent purchase from eBay and the beam offers endless opportunities for seasonal decoration. We've just given it an Autumn revamp with faux foliage! The amber plated glass bulbs are another statement feature and add to the rustic feel of the room, alongside scaffold shelves and a pre-loved wooden mirror which we found on Schpock. The wall colour is very warming and it's great for cosy dinner parties.
We love the ceiling light!
Shop the look
Walls - Pigeon by Farrow & Ball
What is your biggest piece of advice for somebody about to start a renovation project?
Take your time. My husband and I are very impatient by nature and we wanted everything done as quickly as possible, which led us to some rushed (and bad decisions). Take the time to get to know your style, what you like and don't like. If I was to start again, I'd most likely do the least important room first, and work my way up to the most important room! By that time, you should have lots of learnings under your belt so you can really save the best for last!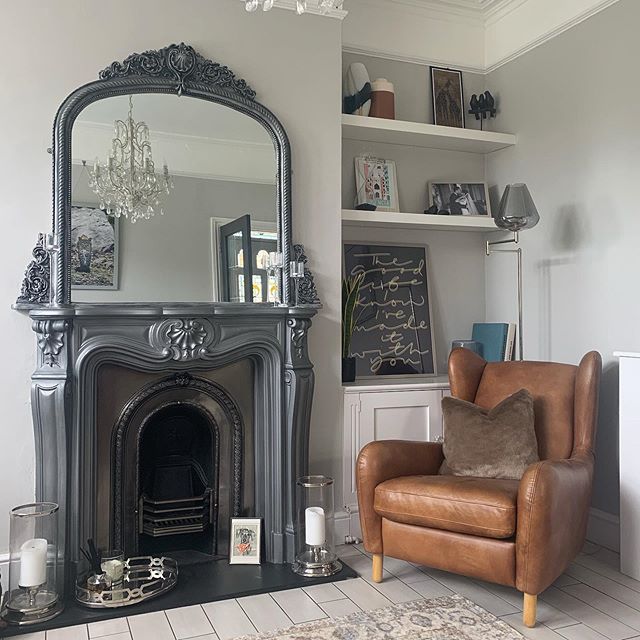 A lovely corner in the lounge
What do friends and family say about your home now?
All of my family still live in the North East, where I'm originally from. Because they don't visit very often, whenever they do, they see something new, as we're forever changing and adding things to our home! My friends worry a little about bringing their toddlers to our house as it's not yet very child-friendly! I think we'll need to re-think some things when we start a family. I have an interiors Instagram account which most of my friends and family follow, so they usually see any changes we make on there before they see it in the flesh! It's so nice to receive lots of compliments.
Shop the look
Walls - Oval Room Blue by Farrow & Ball
If you are thinking about a renovation project in the near future and need some help finding an architect or designer, we can match you with the most suitable ones for your project.
Published: November 6, 2019