An Edwardian home gets a modern extension
Favourite
We first fell in love with this home when we saw the amazing wetroom in the loft space - it's so modern and unique. Then we saw the kitchen, which was as spectacular as the wetroom...really we love everything about this renovation!
This Edwardian home required so much work to turn it into the stunning home that it now is. With planning obstacles and issues with the original extension, this is a great read for anyone about to embark on a large scale renovation project and feels like there are so many challenges in their way. 
Thanks to Abby from @Renovating No 24, who shares with us her renovation story and advice for anyone wanting to project manage a large renovation themselves!
Can you tell us about your home and renovation project?
We moved into the house nearly three years ago - an Edwardian terrace in North West London. We bought it at rock bottom price knowing that it needed a lot of work. 
It had been the victim of a bad 70s refurb; both ground floor and loft extensions had been added with no planning permission or building regs so demolishing and redoing these were a necessity. 
We spent the first year getting drawings, planning permission, building regs and finances in order before we started the work. Agreeing on a 4.5 metre extension that matched the same internal ceiling height throughout the house - something that was really important to us but took some time to get through planning. 
2 years later and I'm pleased to say we're through the worst of it, both the rear and loft extensions have been completed and now it's just cosmetic work to finish on the rest of the house.
We love the lounge with the deep blue panelling
What was the most challenging part of the renovation?
To save money, we project managed the renovation ourselves. We hired a builder to do the structural work on the extensions and brought in specialist trades where needed for plumbing, plastering and electrics. We also used an independent architect, building inspector and structural engineer to save on the cost.
My partner and I both have full time jobs and definitely underestimated the amount of extra work this created. Not only did it require A LOT of time on site to make decisions and find solutions to problems that arose, but it felt like we were in a constant state of mediating between the different parties who didn't agree on things that we had no expertise on.
The wetroom that we fell in love with
Did you have a budget and can you tell us how you stuck to it (or not!)?
If we'd have known what the project would actually cost then I don't think we'd have ever dared to start it. We had an idea of what we wanted to spend (which was actually half of what we have spent to date) but only had enough money to pay the builder to get us to the first fix. The idea was to get everything water tight and then close the door on it until we had saved up some more money. In reality it's very hard to stop once you've started and by doing a lot ourselves we managed to pay as we went along. 
We've been careful to cut back and make compromises on the things that don't matter as much, to allow us to spend money on things that really make a difference. We also haggled on everything - most suppliers will offer you at least a trade discount. 
The frosted crittall doors are a great way to break up the lounge and open plan area, whilst still leaving it feeling open and spacious 
Where is your favourite place in your home now?
When we built the loft extension we initially thought we'd make it into another bedroom. After some thought, we decided that the current 3 bedrooms were more than enough for the two of us and chose to use the loft as a cinema room instead. 
We've designed it so that it can be easily turned back into a bedroom if someone wanted to in the future, there's a bathroom and walk in wardrobe off to the side of the main room which we use as the cinema space. It's a complete indulgence but has been a refuge from the building work when we've needed it and is such a cosy space away from it all to relax and enjoy films. It also means we regularly use the space which would have been redundant if it had been another bedroom.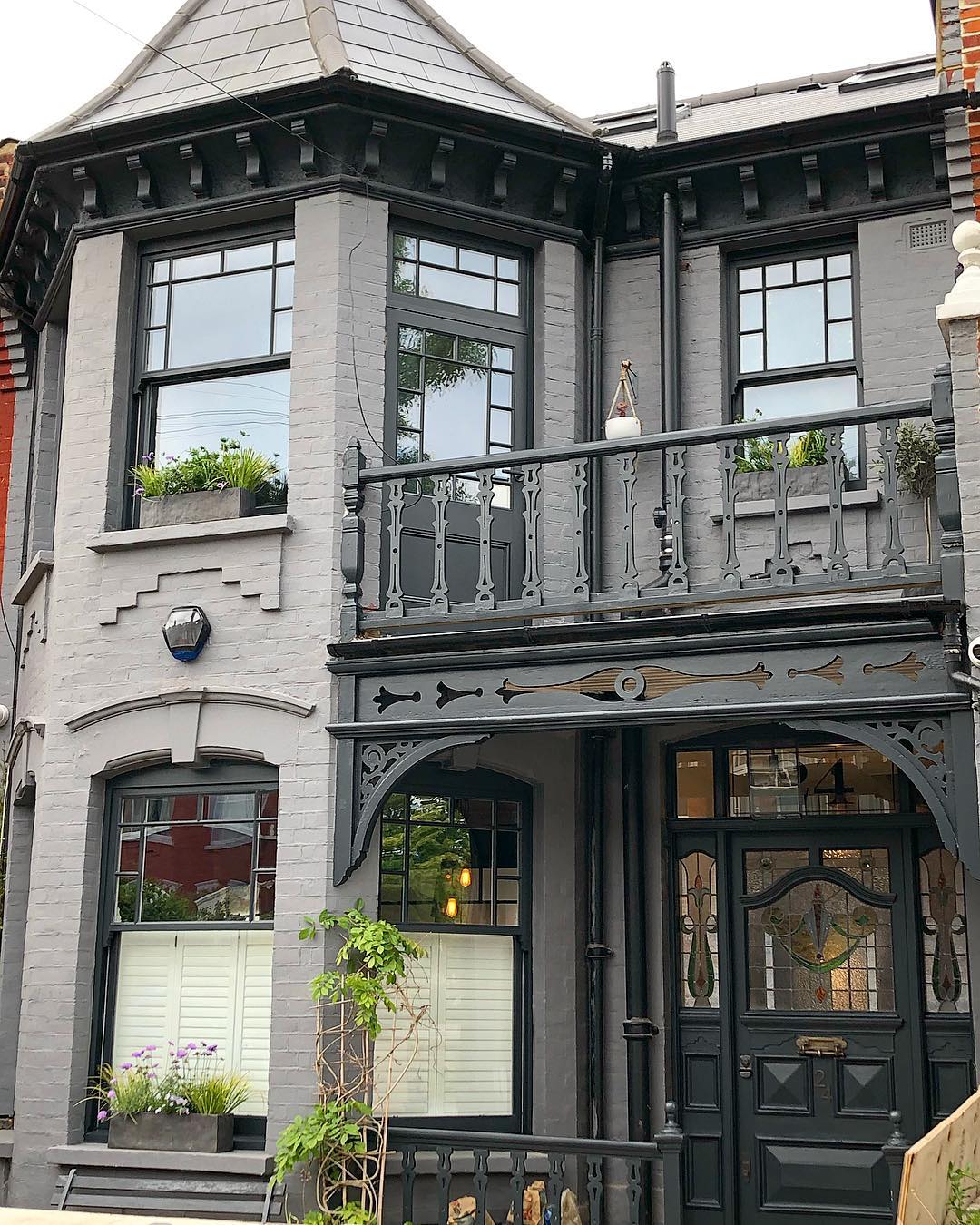 The dark grey exterior makes the home so striking
What is your biggest piece of advice for somebody
Only project manage yourself if you really have the time to devote to being on site everyday and the patience to deal with (often difficult) multiple trades. If you choose to do this then it's worth paying a little more for an architect who will be more hands on and happy to come to site/willing to work with the structural engineer and builder to solve any problems that arise, not one who thinks the job is done once the drawings have been signed off as in our case. Ideally a one stop firm who can offer both architectural and structural engineer services would be easiest. 
Also, I would use a building inspector that the builder recommends and has worked with before. Having a team of people who are happy working together will save a lot of pain.
A final one, if you're on a budget, splurge on the things that make the difference and compromise elsewhere. It's easy to get hung up on spending on the details but try to save this for things that make an impact. For us that was the sliding doors, floor and kitchen worktops. We scrimped on the kitchen units (from Howdens) and made our own MDF door fronts which meant we could afford to blow the budget on marble for the tops.
We adore the marble waterfall island unit and the concrete floor
What do friends and family say about your home
That we spend too much time and money doing it! But they also love it and it's given us a great space for entertaining and having people round. 
Published: January 7, 2020