A 1930s Home Transformed Into A Bright Family Space
Favourite
It seems to be a theme that so many renovators embark on a huge project with toddlers in tow, which can make it a tad more stressful! Of course it's the growing family that makes us want to a larger living space, and extending is usually a better option than moving.

This renovation tour, we chat to Emma from the1930srevive on Instagram, who has a beautiful interiors and also a fab lifestyle Instagram account. With a toddler and baby, Emma is midway through renovating her 1930's home with such wonderful decor taste. So if you have a young family like Emma, follow her lead and do the renovation in stages....it also helps with funding the renovation too.
Thanks to Emma for the advice and look inside her home, we really love how she has created a relaxed and welcoming family home!
If you are thinking about a renovation project in the near future and need some help with where to start with your project, try our renovation advice session.
Dining room before the renovation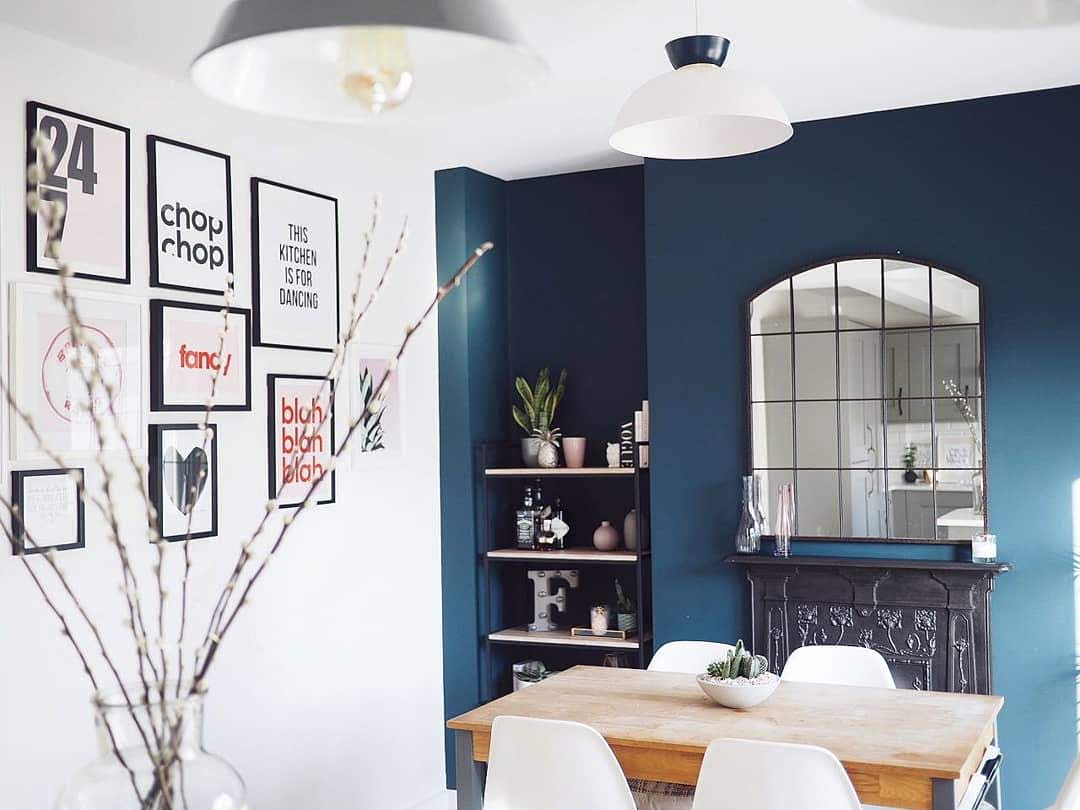 Bright and modern dining area after the renovation
Can you tell us about your renovation project?

We're in the process of converting a 1930's semi which needed completely modernised when we moved in. The previous owner was a lovely gentleman who'd lived here his whole life but hadn't changed a thing. 
The décor throughout the whole of the house was little pictures of birds and wildlife which he had painstakingly cut out of magazines. We felt really guilty pulling them all down but obviously couldn't keep them.
Kitchen before the renovation
Open plan kitchen after the renovation - it's got such a relaxed family look
Were there any major challenges or setbacks during the renovation?
When we bought this house, the kitchen and dining room were two separate rooms and we had no intention of knocking through as I quite fancied the idea of a separate dining room. However when we were planning out the kitchen, we thought how useful it would be to be able to see the children playing while making dinner and so we decided to remove the wall between the two. 
The loss of a wall meant we had to add in two extra steels to hold up the upper floors of the house and this completely blew our renovation budget meaning progress on the rest of the house has been a lot slower than we anticipated, but I'm still glad we done it.
We love the bathroom with the touches of black and subway tiles
You have a really beautiful style throughout your home, where do you get the ideas and inspiration from?
To be honest my ideas sort of evolve as I go along. I generally have a rough idea of the look I'm going and that will stem from the colours I want to use on the walls, but the end result can change depending on the pieces of furniture I source along the way. 
For example our hallway was going to be filled with neutral colours and wooden accessories, but once the paint was on the walls I realised that wasn't going to work so changed it to pink accessories and I'm loving it.
Instagram is definitely a huge source of inspiration as there are so many beautiful homes on there. I like to take ideas from everywhere and use bits in my own way.
The bright hall with those fabulous tiles
What room do you love the most and why?
My favourite rooms in the house are definitely the children's rooms because they are full of fun. I'm really happy with the colours we've used and the different ways we've used paint on the walls. I've tried to shop small wherever I could and I love that they have lots of unique little treasures between them.
Their rooms are the only two rooms I've sat down and designed from scratch, so I'd really like to do more of that in the future.
How gorgeous is this little girls nursery?!
What advice would you give to someone thinking about a renovation project?

I would say try to enjoy the process where you can. Understand that it is going to be stressful and take a lot longer than you planned. There is going to be dust and weeks where you feel like all your money is going on paint – but one day in the midst of it all there will be a turning point when the house starts to come back together and you will feel enormously proud of everything you've achieved!
My main advice is TAKE PHOTOS – lots of them from all angles before, during and after because seeing the place come together and looking at the progress you've made is all part of the fun.
Stunning fireplace in the lounge
If you are thinking about a renovation project in the near future and need some help with where to start with your project, try our renovation advice session.
Published: September 30, 2019