A Victorian home is given a striking dark makeover
Favourite
This week we chat to Cat, the lovely owner of ourvictoriandetached, who has the most striking and unique home. 
Cat bought a dated Victorian property and brought it back to life with the most fabulous decor. We love the dark palette which looks so at home in this period property. There are so many quirky and fun pieces of art, pictures and furniture in this home, making it so individual and welcoming too. 
The home is packed full of style and personality and we love how the owners have been so brave with the decor, going for something that is completely different and expresses their personality....it works so well.
Thanks to Cat for taking the time to chat to us about her home and how she brought it back to life!
Can tell us about your home and renovation project?
We did a last minute viewing on our current home as the house we originally wanted to purchase was about to fall through (which was a 70's monstrosity looking back not sure what we were thinking!). 
My husband didn't want to view our home as it's next door to an undertakers but I managed to get my way, as soon as we stepped through the door we knew this was the one. We were 4 weeks from having another baby with a 16 month in tow. The house needed a total overhaul as it was dated, it had an enormous kitchen with an Aga that only partially worked and a 3 foot work surface for the whole kitchen! 
We started painting days after we moved in to try and get as much done before baby no 2 arrived, starting with the smaller rooms where we could get away with not plastering. The house has become our creative outlet and has brought many opportunities to us in the form of collaborations, photo shoots and interest in our style. We're in the middle of setting up a new business venture based around home decor.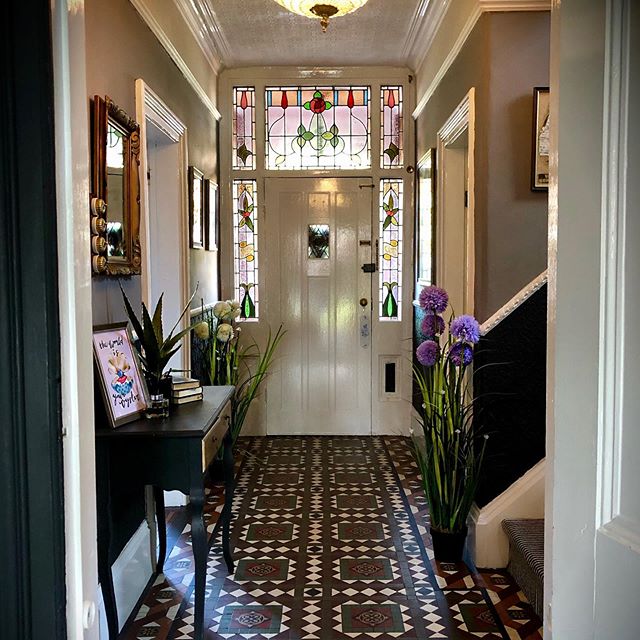 The stunning hallway with original tiles and stained glass window
What was the most challenging part of the renovation?
The kitchen was the biggest job, we did this last as it was so costly. It's tough having kids and having no kitchen amenities whilst electricians, plumbers and plasterers are working. Not to mention the simple part of the noise and dust in the house when it was their nap time. 
The fabulous dark kitchen which contrasts so well with the pink tiles and turquoise ceiling
We love the dark interiors - where do you get your inspiration from? 
We've always loved the dark interiors on Pinterest and instagram but never gone for it before as we knew we wanted to move house. 
Our house is Victorian and suits the dark tones so beautifully, the high ceilings and elaborate cornicing looks amazing in deep tones. I'd not thought about it until recently but the Victorian's way of decorating was very dark which is probably why it feels right. 
How amazing is the art which becomes more of a feature against the strong colours
Did you have a budget and how did you stick to it?
We'd pretty much cleaned ourselves out buying the house and were renovating rooms month by month when we could afford the paints and wallpapers!
We did all the work ourselves to keep costs down and tried to avoid any trades people at all apart from the odd few rooms where the plaster was too bad to be saved by filling and sanding. If we wanted a more expensive paper then we'd compromise by not buying anything else for the room and making sure we didn't have to pay any trades people.
The stunning bedroom where the period features have been retained
What is your biggest piece of advice for somebody about to start a renovation project?
Whilst it's good to keep costs down, don't compromise and settle for something you're not happy with or you'll end up doing it again. We did our bedroom firstly in a lovely dark green but it was spoiled as the walls were in such bad condition we ended up getting a plasterer in and totally redecorating after less than a year.
The bright seating area in the kitchen / diner
What do friends and family say about your home now?
They love it! When we mentioned black paint at first people literally shuddered, once they saw it though they loved it. The thought of dark colours can be a bit daunting to people and sometimes they'll try to advise against it, but we know our style and the look we wanted to go for so did it anyway....and never looked back.
We love the mahogany woodwork and how the period features have been accentuated 
Published: November 1, 2019