A Terraced House Extension Transforms A Victorian Home
Favourite
Often unloved for years and with the potential to extend to the rear and into the loft, Victorian terraced homes often present the most amazing renovation opportunities. They can be an ideal renovation project, allowing you to add floor space whilst restoring a period property back to its former glory.
The home of Insta account @no44.house is exactly that, the owners have managed to extend what was a neglected Victorian terrace and created a spacious and contemporary home.
Set within a conservation area meant the planning application wasn't straightforward, however the couple successfully managed to create a beautiful space that works so well for them. 
We chat to the owner Rosie who shares with us the challenges and her advice following the renovation of this stylish home.

The rear extension which leads on to the terrace
Can you tell us about your home and renovation project?
We bought our home back in 2018. We were living in a 1 bedroom flat with no outdoor space at the time and we were ready to upsize. We also wanted to get a dog, so we were desperate for a garden. 
We had made an offer on another house but it wasn't successful and we were finding it difficult to source properties that required updating, they were always snapped up so quickly.
One of the estate agents that we had a relationship with called us to say a property was coming on to the market which would suit us perfectly and it hadn't yet been advertised, so we jumped at the chance to view it. We loved it and we made an offer quickly, along with a few other people. We felt incredibly lucky that our offer got accepted! 
The front of the home which has the most beautiful period features
It was built in 1890 and hadn't been touched for many years. It was still in the original terraced style layout, apart from one wall that had been knocked through from the dining area to the lounge to make one big room. 
When we viewed the property, it was like entering a time warp! The lady that lived there before hadn't decorated it for many years. It had lots of charm and was the perfect project for us to bring up to date and create our dream home.
On the ground floor there was a small kitchen, no downstairs toilet, an open living room and dining area and the front hallway. On the first floor, there were 2 bedrooms and a large bathroom. 
We wanted to add a 3rd bedroom by doing a loft extension, a large open plan kitchen diner extension and a downstairs toilet so we knew it was going to be a big project! The house was also in a conservation area which made us a bit nervous.
The dining area which looks out onto the garden
We love the dining area that looks out onto the garden - how did you come up with the designs and did you work with an architect?
We did work with an amazing architect for our project, his name is Jack Dušek from Jack Dušek + Co and if you're anywhere in the London, Buckinghamshire, Berkshire or Hertfordshire areas then I would highly recommend him. 
We firstly tried to get planning permission for a wraparound extension so it would be squared off at the back. However, as previously mentioned, the house is in a conservation area, so they wanted the same L shape profile for the extension, so these plans were rejected. 
I remember how disappointed we were at the time as we had always pictured this design and layout, however after rethinking the kitchen layout and playing around with a few designs, we soon came round to the idea of this cosy little dining area, Jack helped us enormously with this. 
The extension in the evening
What was the biggest challenge during the renovation process?
I'd have to say the planning rejection! When you have your heart set on something it can feel like a big let down when it doesn't go to plan. 
However, I'm a big believer that 'everything happens for a reason' and if we had got the planning permission for the wraparound extension, then we wouldn't have had space for our outdoor kitchen! This is a frequent topic of conversation in our house, we wouldn't be without that outdoor space now, it's what makes the garden so special!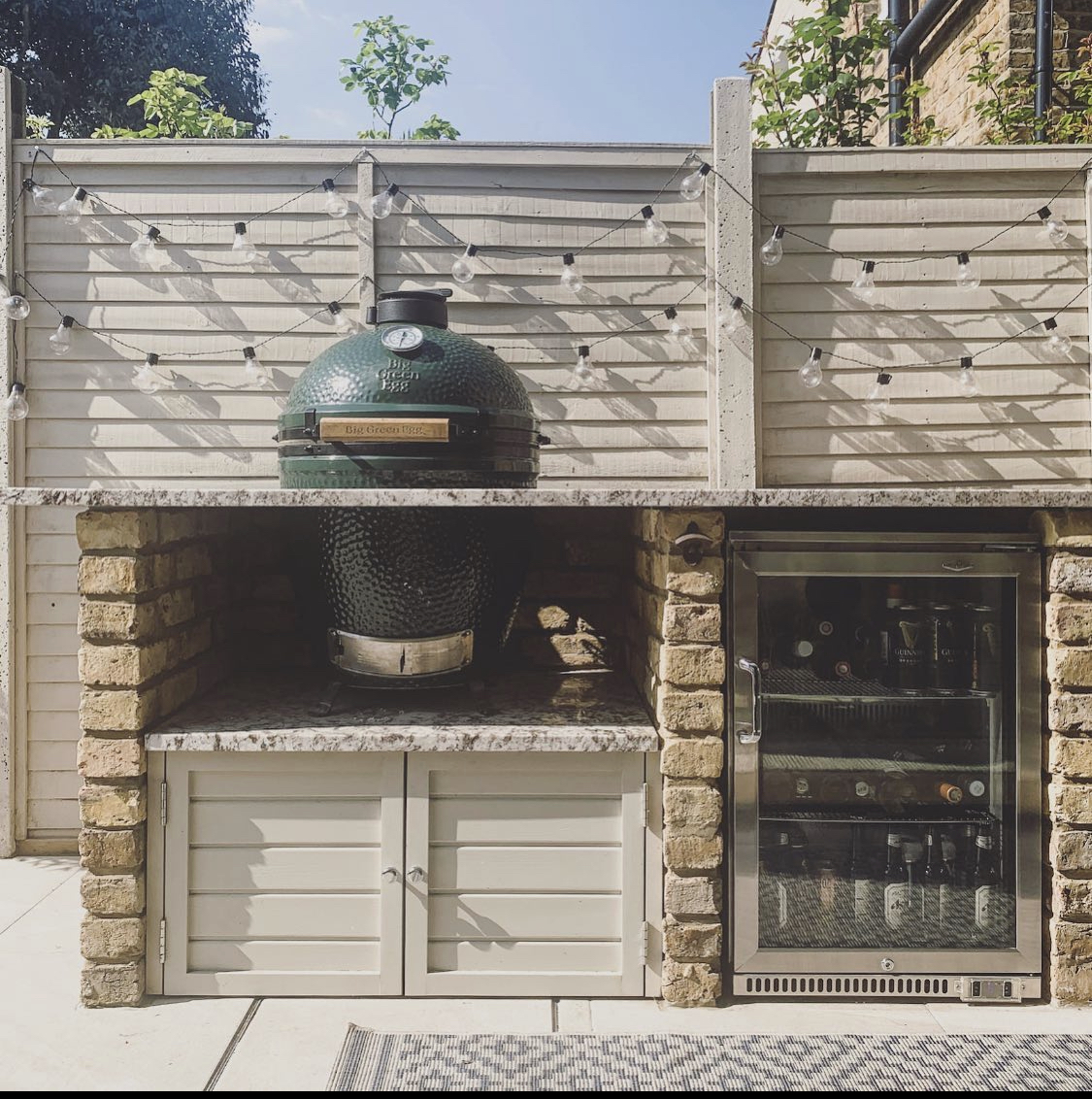 The wonderful outdoor kitchen which is such a great feature
Did you have a budget and how did you stick to it?
We had an overall budget that we wanted to stick to. 
We researched a few builders to quote for us, then once we had chosen the one we felt most comfortable with, we sat down with them and looked at where we could scale the costs back a little by taking out some non-essential items from the scope of works. This enabled us to make sure we had a safety net for any unforeseen extras. 
We are so glad we did this as we had a few issues during the build. Our foundations needed to be dug deeper as they were too close to a large tree in a neighbour's garden, we also needed a whole wall rebuilding in the house as it wasn't attached to the floor above! If we hadn't kept back a little of the money we would have been a bit stuck at this point! 
We also sourced and purchased the kitchen, bathrooms and whitegoods separately and paid the builders an installation fee. By doing this we often found cheaper but also better quality products.
Another money saving tip that worked well for us is to look out for ex display items. We were able to buy better quality ovens, hobs etc for the price of a cheaper alternative by doing this! 
The beautiful kitchen which is sympathetic to the period property
Where is your favourite place in your home now?
This is a tricky one! It's quite a seasonal thing I would say. 
Right now, with the lovely warm weather it has to be the kitchen diner and garden. Opening up the sliding doors, playing some music and cooking on the BBQ is so lovely. 
In the winter however, my favourite area is the cosy living room with the fire. 
We love the terrace garden which flows from the open plan space
What would be your advice to others just starting out?
I'd say try not to get too upset about things that have to change for reasons out of your control. We are so glad our plans had to change with our extension (even if it did add a few months on to the whole process and a fair amount of stress). Everything will work out in the end! 
Another thing I would mention is try and enjoy the process. I remember constantly wishing that it would all hurry up so we could move in and enjoy it (which of course is amazing when it does happen) but we now find ourselves missing the experience and wanting to do another project, so try to take it all in and enjoy it! 
The gorgeous staircase leading from the entrance
If you are thinking about a renovation project in the near future and need some help finding an architect or architectural designer, we can match you with the most suitable ones for your project.
Published: August 4, 2021