A Young Couple Transform Their 1950s Home
Favourite
We adore the home of @faithmitchellinteriors, with a lovely dark palette of navy blue, black and neutrals flowing seamlessly from one room to the next.
Faith and her partner Andy have carried out much of the renovation work themselves, which even included fitting the steel beams in their kitchen extension...not for the faint-hearted! Getting involved in the renovation has meant they have saved significantly along the way, which must be so satisfying. 
Faith shares with us her renovation story and advice for anyone who wants to get involved with the heavy work!
Stunning lounge which is so inviting
Can you tell us about your home and renovation project?
Our house is a 1950's semi which is pretty standard in the area we live in. I'd absolutely love a period Victorian house but there aren't any in the village we live in unfortunately. 
It was lived in by a couple for over 60 years before we bought it and was definitely in need need of updating. 
We bought the house because of the potential to extend into the garage and knew we wanted to create a large open plan kitchen / dining room. 
We basically started from fresh everywhere - it had a full rewire, new windows, new skirting/doors/architrave, we plastered every room, the ceilings came down in some, we knocked the bathroom wall out, dug drainage ... you name it, we've done it 🤣
The beautiful kitchen with dark herringbone floor and dark blue kitchen
What was the most challenging part of the renovation?
Finding people to do the kitchen extension was so hard! We literally spent months chasing people for quotes. We found that because it was a "smaller" job, builders didn't want to do the work which is annoying - there's definitely a gap in the market. 
On a more practical level, we carried out most of the work during Oct-Feb and it's cold up north! It was really hard both physically and mentally. I have Raynaud's and I'd often just sit crying whilst I was scrubbing bricks clean as my hands were so cold! 
We adore the guest bedroom 
Did you have a budget and how did you stick to it?
We didn't set ourselves a budget so to speak, we had equity left over from our first house and wanted to make it stretch as far as we could. I set up a budget tracker for everything and allocated a "budget" per item. 
Then the fun started - I'm such a bargain hunter so I scoured sites for good prices on things such as radiators etc. We got our bath brand new from Gumtree which was a steal too! I've still got my budget sheet and like to consult it for friends who are doing work.
We ended up releasing some equity as we ran out of money but we managed to renovate the whole house for the amount some people spend on one room!
Hallway and stairs with the dark painted woodwork and feature tiles
You carried out lots of the work yourself, did you have previous experience of renovating?
Our first house was a fixer upper too. It definitely wasn't as big a project as this house but it certainly dipped our toes in the water!
A few of Andy's friends are in the trade too so we could always ask for help when we got stuck!
We love the bathroom which has a traditional style
Where is your favourite place in your home now?
Oh that's such a tough question - I love the living room because it's just so peaceful and cosy with the log burner. But probably the kitchen is my favourite as it's such a diverse space for cooking / entertaining and watching TV!
The open plan kitchen with the amazing skylight
What would be your advice to anyone about to start a renovation?
Don't be afraid to do some work yourself. There are so many resources online that can help you, and you will literally save so much. Oh and have a dedicated "workers uniform" as me and Andy called it 🤣, make sure it includes gloves and PPE!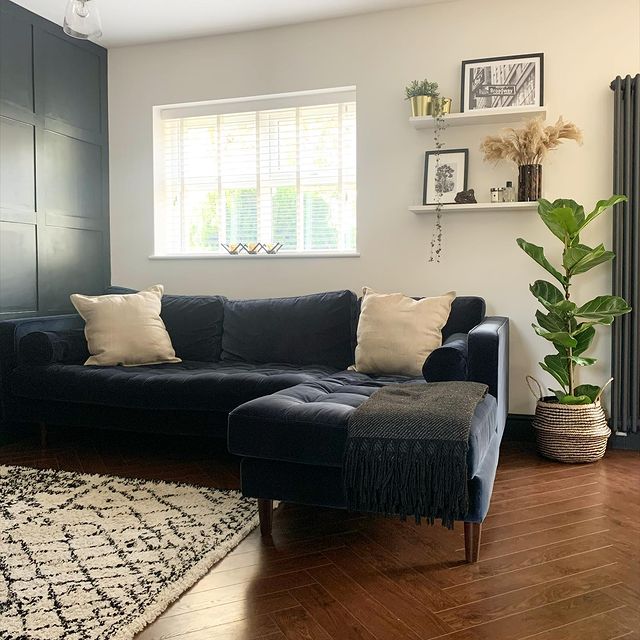 We love the snug area in the kitchen
If you are thinking about a renovation project in the near future and need some help finding an architect or architectural designer, we can match you with the most suitable ones for your project.
Published: February 18, 2021