A Period Cottage Has A Tasteful Renovation
Favourite
We love when we come across a home where the renovation has been carried out completely sympathetic to the original home.
This week, we chat to Natalie from Insta account @onlyjustvictorian, who has spent the past year renovating and bringing an 1830s cottage back to life.
Having spent 3 years' in the home prior to the renovation, Natalie and her husband decided that creating an open plan area would give them the space they needed without having to extend.
Natalie shares with us her renovation journey and advice for anyone carrying out a renovation to a unique and old property.
Can you tell us about your home and renovation project?
My home is a 1830s redbrick semi-detached, former farm cottage in Suffolk. Originally it was two cottages which when sold off by the farm were converted into one. I have been told by the locals that June Brown (Dot Cotton from Eastenders) lived in one of them but no idea if this is true!
In 2016 after a lengthy and rather stressful search we managed to buy the house by sheer luck, as the previous sale had fallen through. 
We fell in love with the cottage charm and stunning location however, there was a lot which we wanted to change. Although it had received some love at some point (mainly some rather unsightly 80's additions), it was definitely in need of a new life. 
The kitchen was very awkward and dark yet, we had a much larger than needed dining room. We gave everywhere a paint and did some urgent repairs such as rectifying the damp and then began saving for the main project.
The exterior of the cottage is beautiful with the stunning windows and doors
Were there any specific challenges with your home being a period property?
We found it rather tricky to make the space flow around the original features. There are awkward windows and fireplaces which we loved and wanted to keep but wanted it all to blend seamlessly.
The ceiling height was also a real headache at some points, particularly when designing the kitchen. Low ceilings just do not work with modern kitchen designs so we opted not to have any wall units, this also helps to make the space feel lighter and not so closed in. There were a lot of compromises made along the way but I think that's part of the fun when renovating a period property, finding solutions to the quirks.
The final challenge was working around the original layout in a way so that we could still live there whilst we renovated. We didn't have the option to move out so we had to just get on with it. There were a few days of walking a plank to the stairs whilst the concrete screed dried but that's all part of the fun right?!
The shaker style kitchen looks perfect in the Victorian cottage
Did you stick to a budget and do you have any budgeting tips?
We went over our budget by around £2,000 mainly due to changing our mind on the worktop although, I'm glad we did go for the nicer worktop now. I hate spending more than necessary on things so I shopped around lots.
My tip for budgeting would be to work out your non-negotiables and shop around from there. The Range cooker was a non-negotiable and I managed to source a nearly new one from Ebay. After a little repair it still cost less than half what a new one would have. 
We sourced our kitchen from DIY Kitchens and fitted it ourselves which saved thousands. Unfortunately, we didn't have the funds to accommodate my rather expensive taste so there were lots of compromises also.
The charming bedroom is perfect in the period home
What part of the project are you proudest of?
I am pretty proud we achieved the finish we did whilst doing a lot of the work ourselves. Our builder completed the structural work (with the help of my husband) and we carried on from there.
We sourced the various trades required ourselves through recommendations and did as much DIY as we could. We gained a fair amount of experience from renovating our previous property and I really enjoy renovating so wanted to do as much as possible. 
Months without a kitchen was rather tiresome but absolutely worth it in the end. Every evening and weekend spent doing something to the house definitely kept the lockdown boredom at bay!
The lounge area is so inviting
What would be your biggest piece of advice for anyone about to start out?
If you can, get a feel for your house before you begin. We were lucky as although there were lots of things to do in the house it was totally liveable. 
Before we moved in, we were certain that an extension was the only way to get what we wanted from the house. However, after living there for 3 years before we began, it actually became clear we had enough space but we just needed to utilise it better. I think we completed plan number 5 in the end which saved us a lot of money from the original. 
Another view of the beautiful kitchen
Where is your favourite place in your home now?
Without doubt the kitchen/dining room. It's so true when people say it's the 'heart of the home' and the space is so much more sociable and usable. 
I was worried about making our cottage too modern/open plan but actually it works so well for us and we managed to keep some original features, which still gives a nod to its heritage.
Unfortunately, due to various lockdowns we have not been able to host a dinner party yet, I can't wait for when we eventually do.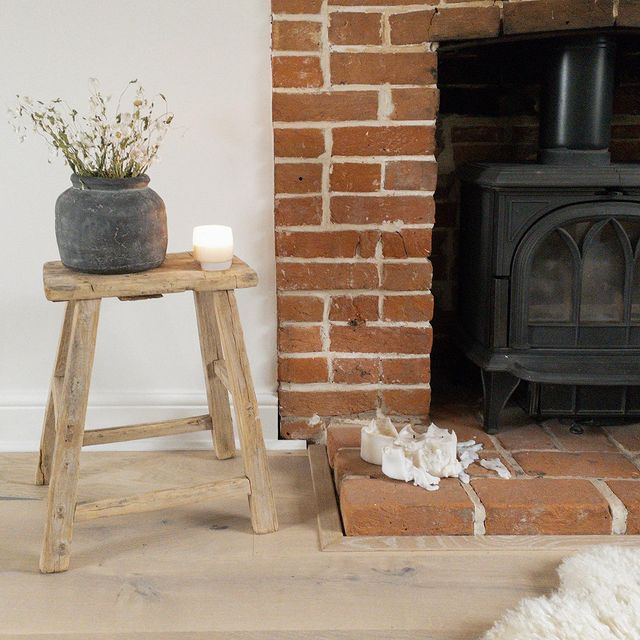 The original fireplace look perfect with the oak floor
If you are thinking about a renovation project in the near future and need some help finding an architect or architectural designer, we can match you with the most suitable ones for your project.
Published: February 18, 2021