9 Ways To Save On The Cost Of A Bathroom
Favourite
Bathroom renovations are one of the most popular renovation projects, where a tired bathroom can be updated to create a wonderful place to unwind in.
Although top of many people's renovation list, a new bathroom will cost in the region of £3,000 and often more depending on the size and finish quality. 
Whether you are transforming your bathroom to bring it up to date, or adding in a new bathroom as part of a bigger renovation, we are sharing some of our tips on how to reduce the cost of a bathroom renovation whilst still creating a beautiful space.
1. Carry out some of the work yourself
If you fancy getting involved in the renovation, ripping out your old bathroom and disposing it yourself will save on labour costs, as well as the cost of hiring a skip.
Many renovators find DIY jobs such as tiling, panelling and painting straightforward and enjoy being involved in the work. So if you fancy learning a new skill then you could help save on some of the labour costs, as well as having the satisfaction of carrying out some of the work yourself.
We love the bathroom in the home of Insta account @inthedoghouse___. Beautifully painted wall panelling has been fitted and a tired carpet was replaced with stunning tiles. The bath was previously in the home and restored.
Restored cast iron bath of @inthedoghouse___
2. Up-cycle where you can
Depending on the quality and condition of your existing bathroom, there are lots of up-cycling options which could help you save on the cost of your bathroom renovation.
If the existing tiles are good quality, then you could paint them and even stencil a striking pattern. This is a huge trend at the moment where we see some amazing bathrooms transformed by stencilling.
We also see so many amazing cast iron baths that have either been in the bathroom when the home was purchased, or bought as second hand on eBay. Baths and sinks can be restored to give them a new lease of life. 
Painting a sink vanity is a great way to bring an old piece of furniture up to date and help save on the cost of the bathroom renovation.
The bathroom below from the home of @moditional_home has had a huge makeover which included repainting and stencilling the floor tiles.
Stunning bathroom in the home of @moditional_home
3. You don't need to tile the whole bathroom
Being smart where you tile your bathroom can save you a lot on the cost of your bathroom renovation, on both the material and labour costs.

The only place that you would ideally tile is the floor and around the shower and sink area. 
By only tiling parts of your bathroom, you can also create beautiful contrasts with a painted wall. Make sure you choose a paint which is resistant to mould and peeling - brands such as Dulux make moisture resistant bathroom paint, which should last longer in the bathroom.
If you have expensive tiles that you have your heart set on, consider limiting them to a small area such as around the shower where you can create a feature of them.
This beautiful bathroom from the home of @atnumberfourteen_ shows how you can combine tiles and paint to create contrast and style in the bathroom. Simple metro tiles look wonderful around the toilet and sink area, with the upper walls painted in a deep green. The beauty of paint is that it can be updated easily too.
For more beautiful bathroom ideas check out 9 Beautiful Modern Bathroom Ideas.
Beautiful bathroom in the home of @atnumberfourteen_
4. Shop around for bargains
Instead of buying cheaper versions of what you like, wait until the sales are on or shop around to get what you are looking for at a cheaper price. Or you may find some quality tiles, taps and bathroom suites are cheaper when they are being discontinued.
Vintage shops or eBay are great places to find furniture that can be upcycled too. We love this vanity in the home of Insta account @lovinmyhome, which was upcycled to create a beautiful and unique home for the sink, as well as the taps which are vintage from eBay.
Bathroom in the home of @lovinmyhome
5. Don't change the layout
Changing the layout of your bathroom can add significantly to the cost of the bathroom renovation, as you have to move the plumbing around.
Moving the toilet can be the biggest issue, so you ideally want to keep your toilet as close to the soil pipe as possible. 
If you are creating a new en-suite in an existing space, ideally you would position the toilet near the main bathroom so that it is close to the existing soil pipe.
If you are increasing the size of your bathroom as part of a larger renovation, try not to remove load bearing walls as this will add significantly to the cost. This may be a challenge to avoid, but try to look at alternative options such as keeping the original footprint of the bathroom to avoid unnecessary costs.
6. Keep the style simple
To help save on the cost of a bathroom renovation, keep to a style and look that will be more straightforward to fit which will save on labour and material costs. 
Items such as wall hung toilets might look amazing, but again will be costly to buy and fit, so consider a standard toilet which will be far more cost effective.
It might be that you would love a wetroom, however a wetroom requires waterproofing under the tiles, as well as a wet flooring system to allow the water to drain effectively. A cheaper alternative is to create a wetroom effect by installing a flush shower tray. A simple shower screen will create a walk in look, whilst also being a practical choice too. Check out our Walk In Shower Ideas for more inspiration.
We love this beautiful walk in shower from the home of Insta account @kateandherhome. The simple white shower tray is practical and looks wonderful against those beautiful tiles.
Bathroom in the home of @kateandherhome
7. Think about what you need in the bathroom
If you are a bath person, then it's worth investing in a steel enamel bath which is great quality, easy to clean and will retain the heat for a long soak. However, if you only occasionally use the bath then buying an acrylic bath is a good alternative. 
If you never use the bath, then this may be the time to remove the bath altogether which will help with the bathroom cost.
You may also consider fitting the shower above the bath which will save space and also on the cost of the bathroom renovation.
8. Consider alternative flooring options
Luxury vinyl is a great option to give the look of a natural material whilst being more practical and cost effective. 
You can get some amazing vinyl finished in patterns and colour which look similar to porcelain tiles but are softer underfoot, so perfect if you have young children too.
We love this shower room in the home of @bungalow_bricks where the luxury vinyl tile is a concrete effect, giving a stunning industrial look.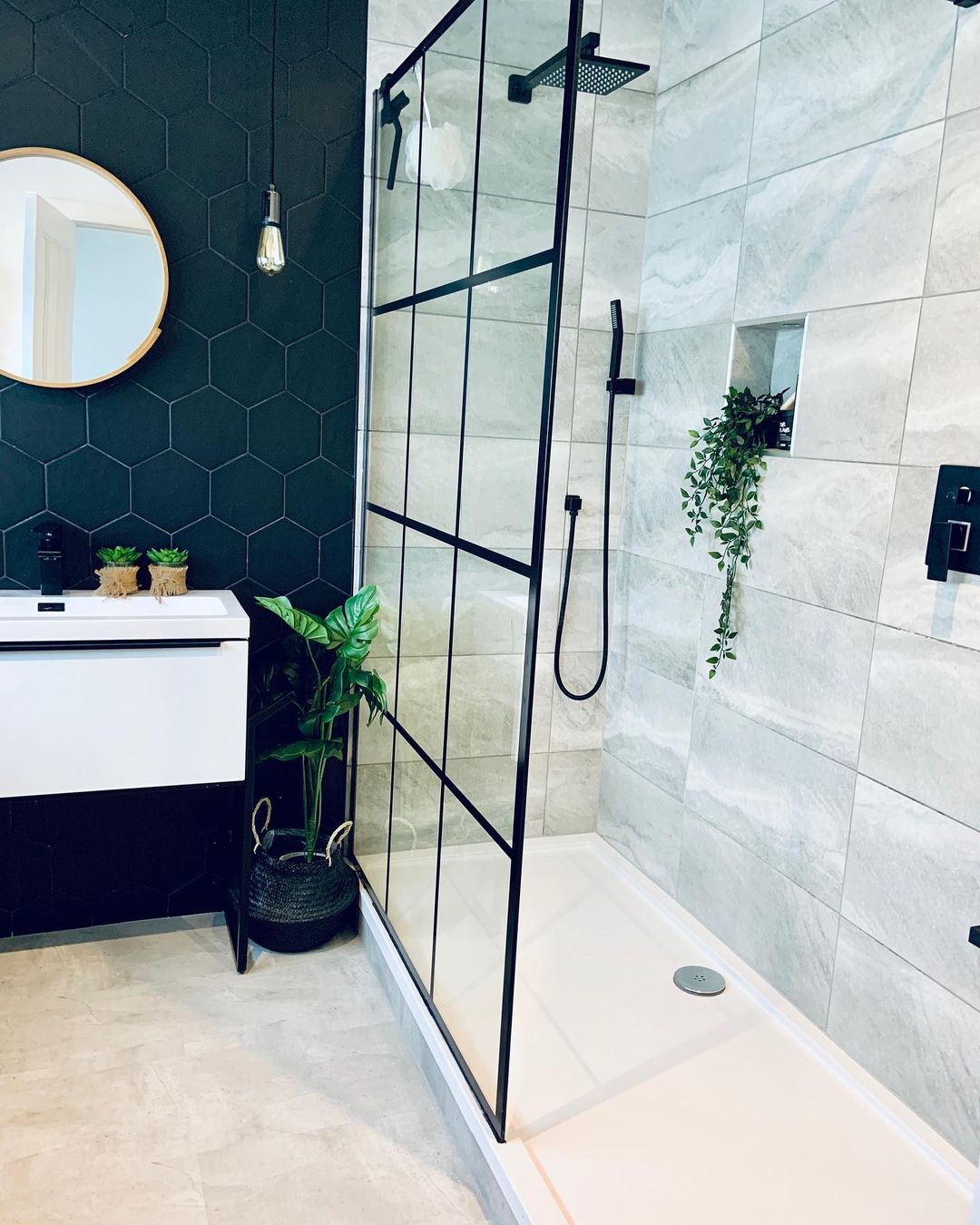 Beautiful bathroom in the home of @bungalow_bricks
9. Ask your builder to pass on trade discounts
A good builder will be happy to pass on any trade discounts that they get...this could be the bathroom door, tiles or even the bathroom furniture.
Show your builder the style that you like and ask if there is anything similar that they can source for you.
They may also have some products left over from other jobs, such as tiles which could be used to fit out a small bathroom.
So what should you invest in?
To make sure your bathroom lasts for years to come, there are some things that are worth investing at the outset.
Which trade professional you choose
Making sure you have a reputable builder or plumber to install your bathroom will ensure that the work is carried out to a high standard.
Using someone who doesn't carry out a good enough job will ultimately cost you more in the long run.
Taps and bathroom furniture
Investing in good quality and sturdy taps will last far longer than cheaper ones, although they may save money in the short run. Cheap taps and showers will not be particularly hardwearing and you may find they are more prone to leaking.
A cheap bathroom suite will also be more prone to staining, cracking and scratching, so invest in a reputable brand to ensure your suite can stand up to a busy bathroom.
Ceramic tiles are more porous and will be more prone to staining, so choose a porcelain or luxury vinyl tile which will be more hardwearing.
A good quality towel rail will also ensure the rail won't rust or peel over time. 
Published: March 4, 2021